Ever felt clueless when you're on a golf course?
Getting a nice GPS for your golf trips can be very handy in navigating your way through the golf course. With other great features, they can also aid in performance which is something any golf player would like. Here's a list of all the best golf GPS we can ould find for the year 2022.
Things to consider before buying:
Easy to use: To save yourself from the hassle of figuring out what your GPS device's buttons do, it's rather convenient to get an easy-to-use golf GPS in the first place. For older golfers, this becomes even more important as the highly featured devices will only confuse the players. This becomes very counter-productive which is against the principle of these golf GPS devices.
Accuracy:

Perhaps the most important thing to look for in a golf GPS, whether it's a handheld or a wristwatch, is accuracy.  You don't want a device that is flimsy with its accuracy while you're on the golf course. Even a slight deviation can cause havoc in your performance so be on the lookout for that.

Comfort: Since most devices for GPS are wearable, it's important to look for a watch that does not bother you while you're on the golf course. The comfortable straps for a GPS device tend to be rubber but you can select any type that you prefer.
Available Courses

: It goes without saying that among the most important things your GPS does is store the courses you'll be attending into a database. There are a plethora of courses available on every device now on the market. However, it is worthwhile to check as to whether the course you require is offered at all.
Go through the buying guide for Golf GPS to decide which golf GPS is the one for you.
Best Golf GPS 2022:
Here are our top picks for Golf GPS including both, handheld and watches. 
1- Garmin  Approach S10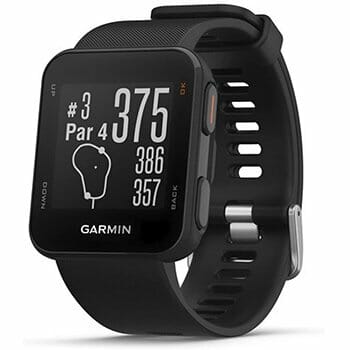 Why we love it:

Higher resolution screen
Lightweight
Over 41,000 preloaded courses
Rechargeable, long-lasting battery 
| PROS | CONS |
| --- | --- |
| Very affordable  | Not very stylish |
| Uploads scorecards from every round | |
| Can play virtual tournaments with players who have the same watch  | |
| Used to track shots | |
Learn More: Best golf cart bags
3- Izzo Swami 6000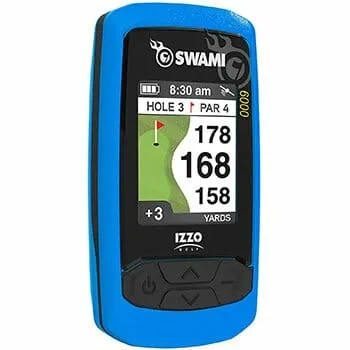 Why we love it:

38,000 preloaded courses
16-hour battery life
Water-resistant
| PROS | CONS |
| --- | --- |
| Affordable  | Larger in size  |
| Full colour display | |
| Shot distance tracker  | |
| Scorecard feature  | |
Learn More: Best Driver Loft for Distance
4- Arccos Caddie Smart Sensors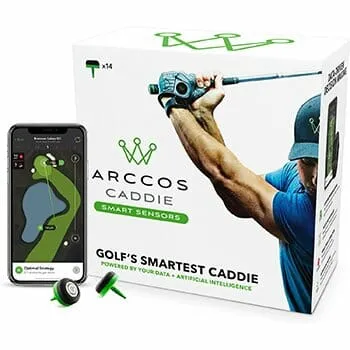 Why we love it:

GPS data that analyses wind, elevation, and temperature
Automatic shot tracking
Caddie advice feature
| PROS | CONS |
| --- | --- |
| Cheap initial cost | Requires data from phone |
| Best game analysing data  | Fee for full features  |
| Advanced GPS data | |
5- Bushnell Wingman GPS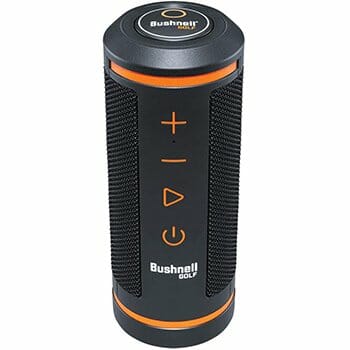 Why we love it:

Gives audible gps distances
10-hour battery life
BITE magnetic technology
| PROS | CONS |
| --- | --- |
| Great sound quality  | Need to connect to a mobile phone |
| 36,000+ preloaded courses  | Need app to view layout of the course  |
| Easy to attach to cart | |
| USB port for charging other devices  | |
6- TecTecTec ULT-G Golf GPS Watch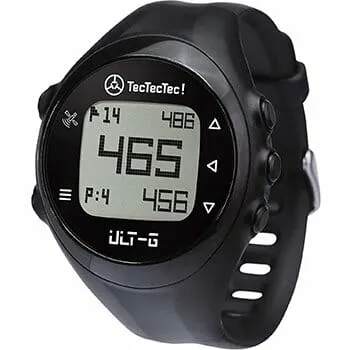 Why we love it:

38,000 preloaded worldwide courses
French design
Auto course recognition
| PROS | CONS |
| --- | --- |
| Easy to use | Does not have the longest battery life  |
| Durable  | Takes longer to update new courses |
| Fast set up | |
| No extra charges for software updates  | |
7- Bushnell 368821 Phantom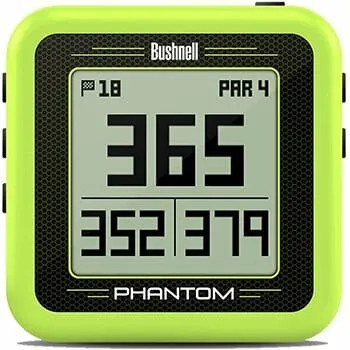 Why we love it:

Over 36,000 preloaded courses worldwide
BITE magnetic technology
Large display
| PROS | CONS |
| --- | --- |
| Multiple colours available  | Not the best mobile app |
| Easy to read | Not the best battery life  |
| Lets you see the hazards on the course | |
| Gives eagle's eye view of the hole  | |
| One year warranty  | |
8- GolfBuddy Voice 2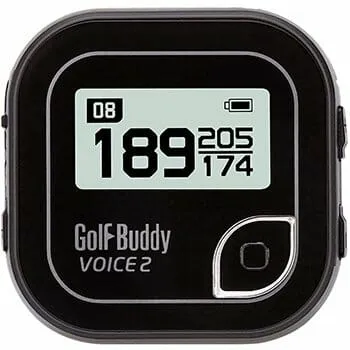 Why we love it:

38,000 preloaded courses
Multiple modes
Accessories to attach to wrist or hip
| PROS | CONS |
| --- | --- |
| Water resistant  | The design is too compact  |
| Easy to carry  | Wi-fi connectivity problems at times  |
| Long battery life  | |
| Gives eagle's eye view of the hole  | |
9- SkyCaddie LX5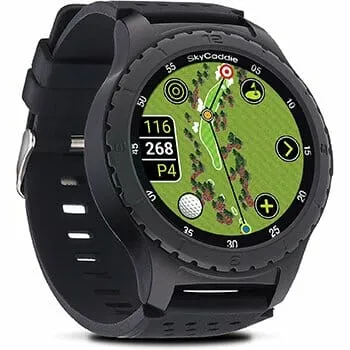 Why we love it:

Touchscreen display
HD color course maps
Compact Design
Conclusion
As you have discovered, there are many different golf gps devices available for different players. All of these are loaded with many features which can help improve your game drastically. All you need to do is find the right golf GPS for you. Make sure to buy a golf gps that will suit you and your needs.
If you don't know what you're looking for, perhaps our buying below might help.
Buying Guide for Best Golf GPS 2022:
Golf Courses
A primary factor you should consider when looking for a golf GPS is its preloaded golf courses in the memory. The number should exceed 38,000 since that's the industry standard. Every device featured in our list almost exceeds that number.
Battery life 
Battery life is essential when you're on a golf course. Unless you hoard a lot of power banks, you must invest in a golf GPS device that can last a day with full usability.
Waterproofing
A waterproof device is crucial, particularly if you play outdoors where it rains a lot. You don't want to spend money on a GPS unit just to have it break when it comes into contact with water.
Location Pins and Mapping
Some GPS devices allow the user to map and set a pin in the proper location. This frequently provides the user with additional yardage and club selection information. It's highly recommended you purchase a GPS that has these features.
Scorecard
Some GPS devices offer a scorecard that makes it simple to record points, all without having to write them down or enter them into an app. 
Accurate Information
Some GPS models are more clear and precise than others. Make sure that you choose a GPS device that'll provide you with the most accurate distances and precise information possible. If the device you get is inaccurate, you'll be starting over on your purchasing journey.
Features 
The number of features largely depends on the cost of the GPS. Units that cost more will have more functions.
The majority of the basic units will tell you how far you are from the front, center, and back of the green. Additionally, they'll point out risks, doglegs, and a few layup locations.
Mid-range equipment will include a color display and allow you to keep track of statistics like club lengths and other regulations.
You can view the yardage to any location on the hole and green with more expensive versions. Some devices can even view altitude ranges to really fine-tune things.
Depending on the features you'll need, choose the model that has those functions. However, we advise choosing a model with more features because it's not something you'll be purchasing every month.
FAQS
Why have a GPS device in the first place?
These devices help you navigate through the golf course and provide valuable information about the surroundings like wind speeds, temperature, humidity, etc.
Should I get a handheld or wearable?
Depends on you really. If you don't like a device hugging your wrist all the time, get a clip-on GPS device that'll hook up to your belt instead. If not, get a watch that has a comfortable strap.
How accurate are golf GPS devices?
Golf GPS is accurate within 3-4 yards under ideal conditions i.e. a clear sky, adequate battery life etc.
Do GPS devices include built-in health features?
There are several GPS watches with built-in capabilities that monitor your daily health. Some examples of these functions are heart rate monitor, calorie counter, walking distance, and many more. Some devices can even retrieve your calls, texts, and weather information.
Are GPS devices worthwhile? 
We firmly believe that GPS devices are worthwhile. They offer thorough detail of the shot you must take, are practical and easy to use, last for a very long time, can comfortably sit on your back pack, and save a ton of time. With a GPS gadget, you may navigate the course by merely looking at the screen rather than searching for sprinklers or estimating yardages.
Why should I buy a GPS device instead of a rangefinder?
Visuals frequently have a deciding role. Golfers who play on several different grounds each year will run into unusual layouts. A golf GPS that has a course layout display in this situation is quite helpful and might even be preferable to rangefinders.
References:
A discussion on the user intention of golfers toward golf GPS navigation

Latest posts by Nick Lomas
(see all)