Why keep the fun only for the outside when you can have it in your home too.  
As much as I'd love to play golf out on the course, some days chilling at the house seems more reasonable. But that doesn't prevent me from playing golf totally. Like many golf enthusiasts, I play golf games for Xbox in my downtime, and I'm going to share the greatest that you can for the console. There are a few of my favorites but there's a lot more to play and experience. But not all games are fun. Some are bland or some rob with microtransactions. So I know what to consider and what to avoid.
So here's a brief list of all the best golf games for Xbox one right now. Even though getting a game is pretty straightforward,  we'll still leave a buying guide below just in case. 
Best Golf Games for Xbox One 2022:
Here are the top golf games for Xbox one you can get right now. We tried to keep everything brief and concise for you so that it's easily digestible. 
1. PGA Tour 2K21: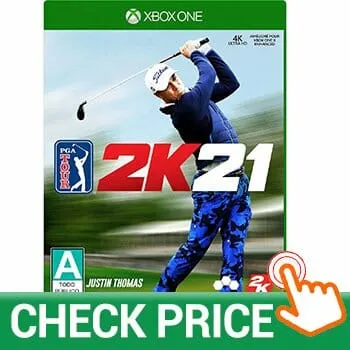 What we love:
Highly customizable game modes
Real-life golf courses with impressive detail
Incredible graphics performance
Captivating Career Mode
| PROS | CONS |
| --- | --- |
| ✅Latest edition of the PGA | ❌None |
| ✅Improved mechanics | |
| ✅Highly customizable | |
Learn More: Best Golf Games for PS4
2. Rory Mcllroy: PGA Tour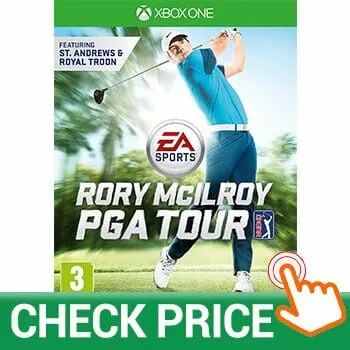 Why we love it:
Brilliant game physics
Immersive graphics
Real golf courses
Cinematic game visuals
| PROS | CONS |
| --- | --- |
| ✅Immersive graphics | ❌A few microtransactions |
| ✅Great sound design | |
| ✅Realistic gameplay | |
Learn More: Best Golf Games for PC
3. Powerstar Golf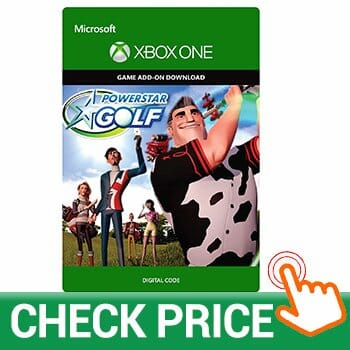 Features we love:
Fun animated game style
Immersive gameplay
Casual game for families
| PROS | CONS |
| --- | --- |
| ✅Has a free version | ❌A bit too simple for some |
| ✅Casual and easy | |
| ✅Interesting game design | |
4. The Golf Club 2019 featuring PGA TOUR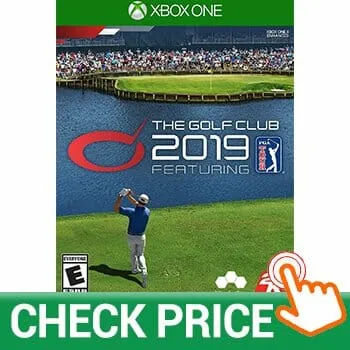 Features we love:
Critically acclaimed game physics
Impressive graphics
Improved Mechanics
| PROS | CONS |
| --- | --- |
| ✅Real-life physics | ❌none |
| ✅Immersive environment | |
| ✅Better commentary | |
5. The Golf Club: Collector's Edition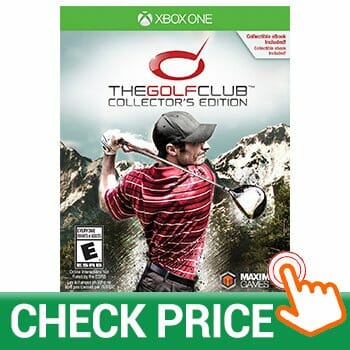 Features we love:
Creating your own golf course
Advanced shot modifications
No-load times between 
| PROS | CONS |
| --- | --- |
| ✅Captivating multiplayer | ❌A bit expensive than the rest |
| ✅Minimal load times | |
| ✅Seamless gameplay | |
6. Dangerous Golf: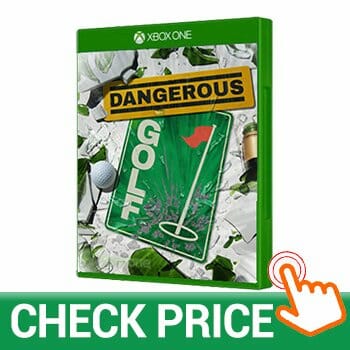 Features we love:
A unique take on a golf game
fun to play
a brilliant time killer
| PROS | CONS |
| --- | --- |
| ✅Multiple stages | ❌Not an enthusiast game |
| ✅Very fun to play | ❌Limited game design |
| ✅Easy to play | |
7. Party Golf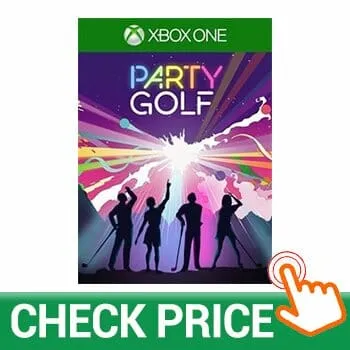 Features we love:
a casual game
very simple to play
vibrant colors
| PROS | CONS |
| --- | --- |
| ✅minimal games design | ❌hardly resembles a golf game |
| ✅a calm and fun vibe | ❌too simple for some |
| ✅interactive multiplayer | |
8. The Golf Club 2: Day 1 Edition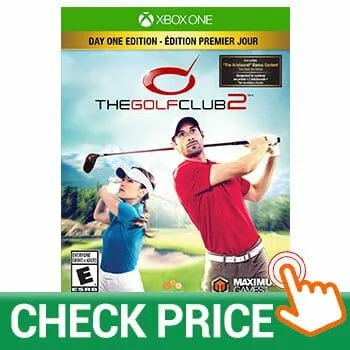 Features we love:
Online multiplayer
Smooth gameplay
Amazing graphics performance
An elaborate practice range
Buying Guide for Best Golf Games for XBOX One:
Even though we explained everything there is to find yourself the golf games for Xbox One, we still feel like there are few things we should put forward. These aspects of the game will make your time with the game much more pleasurable and exciting. The last you'd want is to have a game that isn't fun.
The price:
Since golf games are a niche, the prices for the games are normally pretty average. However, some publishers tend to bring out pretentious titles like "Expanded Edition" or "Deluxe Edition" with very little to offer. We recommend doing your research before making a decision. The games I've featured are the top games you'll find on the console anyway.
The features:
The golf game should have enough compelling features for you to consider that game. If not, the game would feel the same as your last game. The features should be at least expanded or improved from the last editions.
The Customization:
Since a lot of golf games tend to rely on their "Make your own" game modes, you have to make sure your golf game comes with a decent one to play with. This is something you shouldn't really consider since almost every game nowadays comes with fully equipped customization game modes.
FAQs
What is the latest golf game on Xbox One?
The latest golf game for Xbox One you can get right now is the PGA Tour 2K21 by 2K games. With all the features it has, we feel like this is one of the most amazing new golf games for Xbox One in 2022.
Can you buy Rory McIlroy on Xbox One?
Yes, you can. Better yet, you can get it for a lot cheaper now. 
Is 2K21 golf on Gamepass?
It used to be, sadly. But keep your hopes up, the game might just see a comeback!
Reference:
Presence in virtual golf simulators: the effects of presence on perceived enjoyment, perceived value, and behavioral intention

Latest posts by Nick Lomas
(see all)