What to do when you can't go to a real golf course? 
By a real golf course, we are directing towards the one that is situated at a location away from the noises of the city. What a lovely sight it is to see the perfectly trimmed green grass all around you. Of course, there's no match.
In this case, you have an option for the trending golf simulators being uses by thousands of people. With multiple options available in stores and online, it can be a bit overwhelming for you to decide which one to choose, especially when it is your first time buying one. You might also not even know how much is a home golf simulator but we are sure that you don't even want to spend a fortune buying on the golf simulator.
If you are confused between the hundreds of options for golf simulators out there, you have landed at just the right spot. We have picked out the best golf simulator under 5000, all with the latest tech and performance you can wish for!
Before we proceed one thing that you need to understand is that you cannot buy a complete setup for golf simulation, because of course, the fancier it gets, and the prices go higher.
What Should I Consider Before Buying a Golf Simulator?
Golf simulators vary. They have different features, a wide range of prices, and designs. Before you buy one, you need to make sure you've covered certain areas like knowing what the best brands are, the price range that is affordable for you, as well as the features that stand out and give you a realistic appearance. 
Tracking: A simple rule when buying golf simulators, you should make sure that the simulator you're buying accurately simulates your movement and analytics. We made sure to select the ones that have a decent feedback from users and that update their bugs and flaws more often.
Price: Gold simulators can be expensive sometimes since there's a lot of techs that are involved with multiple other accessories like a projector screen etc.  Bearing this in mind, one should keep more or less $5000 for a complete, highly capable golf simulator. Anything above this, however, is not worth it in our opinion.
Resolution/graphics: The golf simulator should have a decent resolution in its projection for an enjoyable experience. Not having this makes the simulation seem worse, with little to no alluring part of having a golf simulator at home. We recommend getting one with at least 1080p resolution for decent graphics and visuals.
  For knowing what to look for when buying a golf simulator, consider checking out our buying guide.  
Best Golf Simulator under 5000 in 2022:
Here are the top golf simulators under $5000 you can get in 2022.
1. OptiShot 2 Golf Simulator for Home | Golf in A Box Series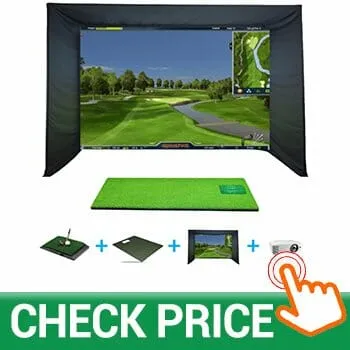 Why we love it?
Extremely pocket-friendly
All accessories come within the box
Great quality and durable
| PROS | CONS |
| --- | --- |
| Low-cost, affordable for all | None |
| Allows multiplayer | |
2. Phigolf Golf Game Simulator with Swing Stick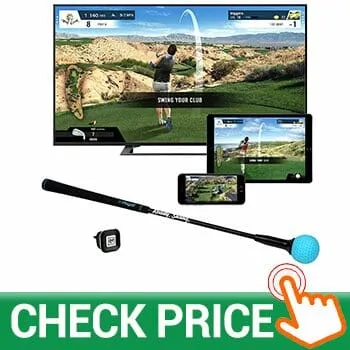 Why we love it?
Wireless connectivity
A swing stick for realism
Multiple golf courses available to play on
Online PvP
| PROS | CONS |
| --- | --- |
| Easy installation | most PvP options require microtransactions |
| Beautiful graphics | not a practice/tracking simulator |
| Can use custom clubs if sensor is attached | |
3. SkyTrak Personal Launch Monitor w/Basic Practice Range Package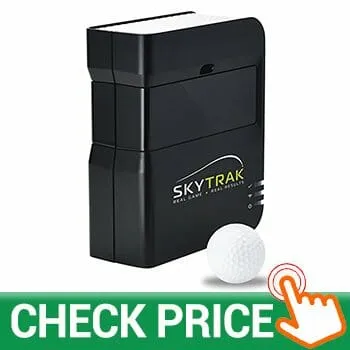 Why we love it?
Wireless connectivity
Instant 3D visualization of the ball
Parameters such as ball speed, launch angles, and spin rates can be measured
| PROS | CONS |
| --- | --- |
| Long-lasting battery | Relatively expensive for an in-home system |
| Highly portable | |
4. FlightScope Mevo+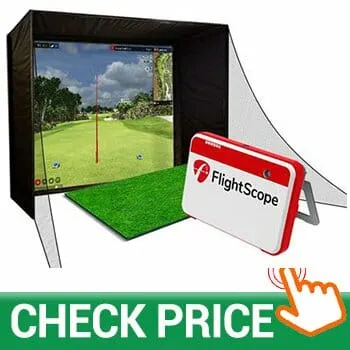 Why we love it?
You can customize your challenges
Supports wireless connection
Can be used indoors and outdoors both
| PROS | CONS |
| --- | --- |
| Compatible with both indoor and outdoor settings | Short battery life |
| Compatible with all devices | |
5. Optishot 2 Complete Golf Simulator System with New Projector
Why we love it?
It comes with an excellent quality ball
15 real courses
Precision and great accuracy
| PROS | CONS |
| --- | --- |
| Adjustable fitting options | Limited to Microsoft apps only |
| Modeled after real courses | Technical to assemble |
6. Tittle X Home Golf Simulator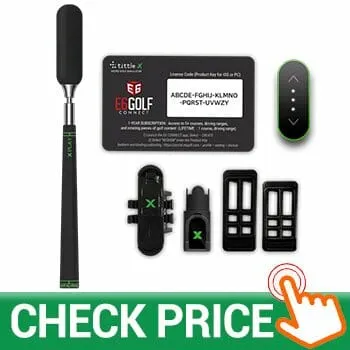 Why we love it:
Decent motion tracking
Beautifully designed peripherals
4k resolution
| PROS | CONS |
| --- | --- |
| Pretty accurate | tracking might suffer from custom clubs |
| preloaded golf courses | |
| very compact | |
Conclusion
When it comes to golf simulators, or in fact any technical device or gadget, it is a common mindset that it is going to cost us an arm and leg. Not after you go through the list mentioned above. Based on the reviews of our expert technicians and real user feedback, we have summed up the top-rated golf simulators for 5000 and less. All of the specifications with their pros and cons have been mentioned for you, in detail so that you do not miss out on any feature, after all, you're paying it from your hard-earned money. The perfect golf simulator is going to depend on your skills and budget of course, but the options we narrowed down for you will surely be a big help in making your decision.
Buying guide for Best golf simulators under 5000:
Golf simulators are a whole another genre than your traditional golf. While that does have its place, with the ongoing pandemic situation, it becomes very compelling to have a simulator in your home with which you can practice or have fun. A simple google search would bring you hundreds of golf simulators with very interesting features and claims.
But if you don't have any experience in his rather small niche, you can easily get robbed for thousands of dollars. This is why we prepared this brief buying guide for your convenience. With this, you'd know exactly what you'd need to know when looking for a decent golf simulator that can deliver an enjoyable and productive experience.
Frequently Asked Questions
Can I use golf simulators to learn how to play?
Yes, you can learn how to play golf via a golf simulator. Most beginners are wary about going to the golf course with little knowledge about the game, but when they've had the experience from the next best thing to a golf course, they tend to feel more confident. 
Also, some golf simulators, like the SkyTrak Personal Launch Monitor, keep track of your performance, giving you room for improvement. Note that a golf simulator can be beneficial to any golf enthusiast. 
Where is the best place to set up a golf simulator? 
There isn't a specific place dedicated to golf simulators. Location depends on the individual. Some people prefer an indoor setting to an outdoor one, while others like both. One of the important things to keep in mind is setting your simulator in a spacious environment. It doesn't matter where you choose. There must be room for movement and additional space on top of that. 
If you like to play with others, setting up your golf simulator in an area where people can easily relax and feel comfortable is best. 
Are there golf simulators for kids?
Yes, there are golf simulators for kids. Once you notice your child's interest in golf, using a simulator is a great way to keep the interest growing before you take them out to the course. 
We also recommend introducing your children to golf-related video games. Video games may be easier for a kid to comprehend in comparison to a full-fledged golf simulator meant for competing adults.
Is a golf simulator setup worth the money? 
Yes, golf simulators are worth it. Many amateurs and pros like to keep one around to play with friends and family when going to the golf course is not an option. However, it would help if you were careful when buying a golf simulator so you don't get one that doesn't meet your expectations and becomes useless. 
Are expensive golf simulators better? 
No, expensive golf simulators are not better. However, the expensive ones have more features and technology. As we've seen through the list, you can have an incredible experience using less costly simulators. 
Which is the best golf simulator for the money?
In our opinion, the Tittle golf simulator is a great hybrid between pro and casual gameplay. If you want a bleeding-edge professional golf simulator, then the OptiShot 2 Golf Simulator is for you.
How much does a decent golf simulator cost?
A decent golf simulation with a projection screen can run around $2000 to $4000. However, there are more affordable golf simulators around, as we've debunked in our golf simulator under 5000 reviews.
Why are golf simulators expensive?
Golf simulators are expensive because they feature high-quality technology and products to give a realistic appearance and experience. Generally, the more features the simulator has, the more expensive it is.
What golf simulators do pros use?
We'd like to believe that pro players usually go for large projected simulators worth motion tracking like the OptiShot 2 Golf Simulator. Find this exact golf simulator on our list above.
Can golf simulators replace actual golf?
Yes, golf simulators can replace actual golf. If you're someone who doesn't like going to the golf course, you can use a simulator and get the same experience. Golf simulators like the OptiShot 2 Golf Simulator for the home have a multiplayer game mode which will make things more interesting. However, if you partake in competitions, it might be best if you also practice on the golf course. 
Are there downsides to using indoor golf simulators?  
Yes, there are downsides to using a golf simulator. One of them being the price. Also, a golf simulator takes up a huge space, and if that's something you lack, it might be a downside. Lastly, the whole experience of indoor golfing is inferior to that on the course.

Latest posts by Nick Lomas
(see all)