If you think the only important golf equipment a player needs is the perfect golf club you are gravely mistaken! To better understand your surroundings, it becomes essential to get the best golf rangefinder your money can buy.
Every golf player needs to have one to analyze the shots they make and the range and distance they cover with each shot and there's no better tool than a rangefinder with slope. 
What is a Golf Rangefinder? 
A golf rangefinder is a device you can use to measure the distance from where you are to a specific target area. This device acts as a scope that gives you the actual yardage by increasing the target area.
Golf finders are easy to use and require little to no effort. All you need is to look through the lens, and with a push of a button, you can determine an accurate distance. Many people believe that golf finders are only essential to beginners, but any golf lover can find them beneficial in giving accurate feedback. 
What are the Best Golf Rangefinders With Slope in 2022?
Golf rangefinders, also called Distance Measuring Devices (DMD), are becoming increasingly popular. There's a huge market for them everywhere, which can confuse a novice on where to start. It's important to pick from the very best which will impact your game positively. Also, when you know the best golf rangefinders, you know what key features will be essential. 
Go through the buying guide to choose your ideal rangefinder.
Best Golf Rangefinder With Slope 2022:
Here is a list of top golf rangefinder reviews that are available in the market right now. 
1- Gogogo Sport Vpro Laser Rangefinder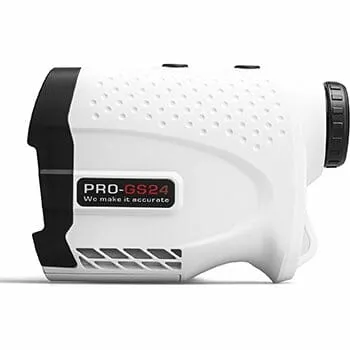 Why we love it:
Flagpole locking vibration
Fully multi-coated optics lenses
1 year warranty
7 degree field of view
| PROS | CONS |
| --- | --- |
| Cost effective | Highly sensitive focal adjustment |
| Reliable after sales service | Case is badly designed |
| High precision distance measurement | |
| Range from 5 to 650 yards | |
Learn More: Best Golf GPS
2- Callaway 300 Pro Slope Laser Golf Rangefinder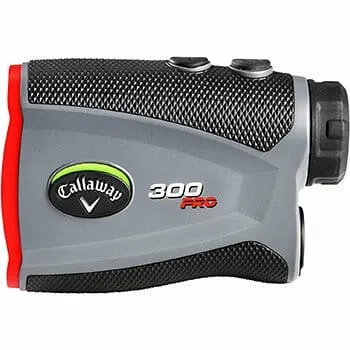 Why we love it:

Finds the uphill and downhill angle
Magnifies the view 6 times
+/- 1 yard accuracy
| PROS | CONS |
| --- | --- |
| Great readability | May require a number of shots before you lock it |
| Long battery life | Does not come with instructions |
| Maximum range up to 1000 yards | |
| Compact shape | |
Learn More: Best golf irons for mid handicappers
3- TecTecTec VPRO500 Golf Rangefinder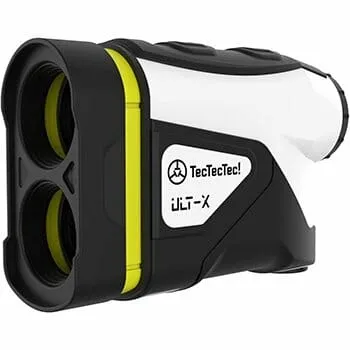 Why we love it:

Uses advanced laser technology
As accurate as GPS rangefinders
Has the option of continuous scanning
| PROS | CONS |
| --- | --- |
| It is lightweight | Short battery life |
| It is strong and durable | Short range |
| It is water resistant | |
Learn More: Best Low Compression Golf Balls For Seniors
4- WOSPORTS Golf Rangefinder, 650 Yards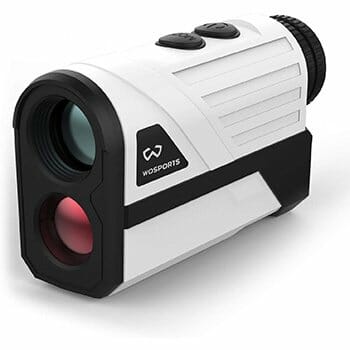 Why we love it:

Flag Lock with Vibration
Distance, Speed, and Angle measurement
Upgraded battery cover
| PROS | CONS |
| --- | --- |
| Meters and yards switching available | Short battery life |
| 6 times magnification | May show inconsistent readings |
| 18 month warranty | |
| 7.5 degree field of view | |
5- Precision Pro Golf, NX7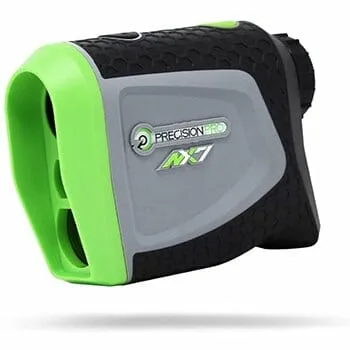 Why we love it:

Vibrates when the target is acquired
Calculates slope
User-friendly display
| PROS | CONS |
| --- | --- |
| Affordable | Faster rangefinders are available |
| Unlimited free batteries | |
| Consistent readings | |
| Quick on/off for slope mode | |
6- Halo RangeFinder Hunting Laser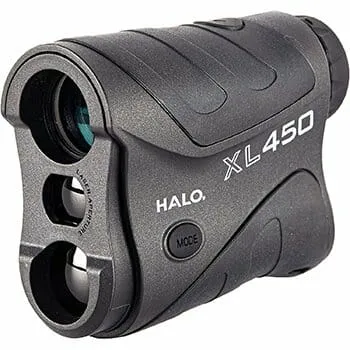 Why we love it:

Angle Intelligence Technology
Advanced laser technology
Scan mode available
| PROS | CONS |
| --- | --- |
| Water resistant | Not great for long distance |
| Offers both yards and meters for distance | Dim interface that can be hard to read |
| Ranges multiple targets at different distances | |
| Non-slip grip | |
7- TecTecTec ULT-X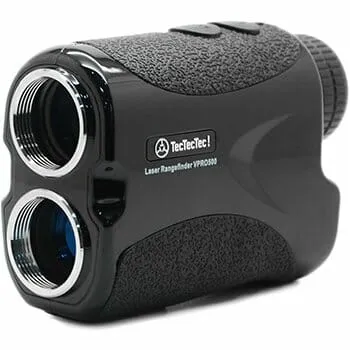 Why we love it:

Range of 1000 yards
6 times magnification
Built-in stabiliser
Comes with a CR2 battery
| PROS | CONS |
| --- | --- |
| Comes with protective pouch | Very soft vibration signal |
| Quickly locks flags and hazards | Expensive |
| Great quality of optics | |
| Can remain steady even if you have shaky hands | |
Conclusion:
A typical rangefinder calculates the distance but these modern rangefinders can also analyse the slope. This helps you collect more data that you can use to improve your game and get more accuracy. 
There are many different types of golf rangefinders with slope available in the market for players. They all come at different price ranges and have many advanced features. We hope to have made you familiar with all the different features and functions of a rangefinder that you should keep in mind before choosing the perfect one for your needs.
Find out more about rangefinders, here.
Buying Guide for The Best Golf Rangefinder With Slope
The most important feature for a rangefinder is the accuracy of the measurements it makes. The distance that it calculates over flat surfaces and slopes needs to be accurate for you to analyse it and use it to improve your game. 
Rangefinders that are available these days are mostly easy to use. However, this does not mean that all of them are equally easy to use and you can overlook this factor. It is important to have a rangefinder that lets you know of the distance and flags and hazards in that distance with hitting just one button and holding in one hand. 
It is important that a rangefinder can clearly shoot a long distance and give reliable readings. Most rangefinders with laser technology can shoot up to 1000 yards and lock targets and hazards in the way. However, you need to make sure that the magnification available in the rangefinder is at least 6 times so that the view of the rangefinder is clear. 
You need to make sure that you find the best rangefinder in the price that you can afford. The high end rangefinders come with a lot of quality features that can enhance your experience but if you do not need them it can be a waste of money. Most rangefinders in the middle of the price range have amazing features like laser technology and slope calculation available and they can help you with your game well enough.
Some rangefinders come with instructions which help you use them as they are intended and this extends their battery life. It is important to have a rangefinder that will not run out of battery in the middle of a game. Some companies also offer free unlimited supply of batteries with their rangefinders and that can be a great choice as it ensures that you will never have to buy batteries for your rangefinders again. 
If you play golf in a humid climate or in rain it is important that you buy a rangefinder that has a water resistant body or at least has a cover that can protect it against water. Otherwise your rangefinder can get easily damaged and you cannot use it as you intend to. 
You have to decide whether you want to buy a golf rangefinder that has a display that shows a lot of information on its screen or one that keeps it simple and only shows the necessary information. It is important to choose a rangefinder that has a clear display that is easy to read and take information from as if it is not readable you cannot analyse the data it shows you. 
To buy the best golf rangefinder with slope you need to find one that has accurate slope analysis. It needs to show you if you have uphill or downhill shots. It is also important that the rangefinder has an easy way to turn the slope mode off as it is not allowed in golf tournaments and you will need to switch it off.
You should choose a rangefinder that comes with a case that you can keep it in when playing as you have to move around and it can wear the rangefinder. These are not the cheapest equipment and needs to be protected by a good and durable case to make the rangefinder last longer. It is also important to have a rangefinder that is easy to carry and is light in weight and compact. 
FAQS
Are more expensive rangefinders better?
It is not necessary that the more expensive the rangefinder is the better it is. With the increasing prices, rangefinders have extra features, some of which that you might not need to use. It is not recommended to just buy the rangefinder that is more expensive.
Do I need a golf laser rangefinder with slope functionality?
If you are looking to improve your game by studying different courses, Slope technology can be important for you. It helps with the accuracy of your game by giving you important data that you can analyse to make changes to your game. If you are just looking for a rangefinder that only measures the exact distance to the target, slope technology might not be useful for you.
What's the best rangefinder for a shaky hand?
A rangefinder that has an internal stabiliser is ideally the best choice for someone with shaky hands. These kinds of rangefinders allow you to lock the target accurately even if your hands are shaking.
Can you turn off the slope function of the Gogogo Sport Vpro Laser Rangefinder?
Yes, you can turn off the slope function of the Gogogo Sport Vpro Laser Rangefinder. The slope switch gives a major advantage, as it makes them more tournament legal and you can use them in competitions without issues.
Are golf rangefinders considered cheating?
No, golf rangefinders are not considered cheating. The device gives an accurate reading of distance, but it doesn't have anything to do with the type of golfer or how they play, so there's no unfair advantage for people who use them. The USGA sees them as legal. However, according to the USGA, in some tournament rounds, rangefinders may be disallowed, so it's important to do your research beforehand. 
Does a slope rangefinder have any benefits?
Yes, rangefinders with a slope feature have several benefits. One of them is that they take out the guesswork when playing. Their measurement accuracy will give you a clear outlook from your intended target point, saving you any guesswork. Another benefit is that they make it easier to play on a hilly course because you can clearly look at your surroundings to map out an action.
Last but not least, rangefinders with slopes are accurate. They can give visuals around areas where the eyes cannot see. There's little to no factors that affect the measurement of distance, so you can be assured that every measurement is precise. 
Are there downsides to using golf rangefinders with slopes?
Yes, there are downsides to using golf rangefinders. The disadvantages of the device are noticeable when you buy a low quality rangefinder. There are different models, some of which may give inaccurate measurements and mess up your golf game.
Some people see rangefinders as a lazy way for beginners to learn the game of golf, which can be a downside. But in reality, it's great assistance that benefits novices and amateurs. Also, the price of golf rangefinders can be high.
Can people who wear glasses use golf rangefinders?
Yes, people who wear glasses can use golf rangefinders. Regardless of whether or not your glasses are prescription, you can find models of rangefinders that are fully compatible with them. An example of this is the Precision Pro Golf, NX7.
Reference:
Study on golf range finder by using biprism theory of keratometer

Latest posts by Nick Lomas
(see all)