When you are a senior golf enthusiast, your swing rate might not be as good as it used to be, however, by picking the right golf ball, you might be able to hit your ball for a very long distance.
Keep away from those rock tough low-cost balls that claim they'll give you extra range. Rather check out our senior golf balls list where you will find exactly what you'd need.
Be sure to check out our Buying Guide here for more info.
Best Low Compression Golf Balls 2022:
Here's our list of top compression golf balls for this year!
1-Wilson Staff Duo Spin (Compression: 35)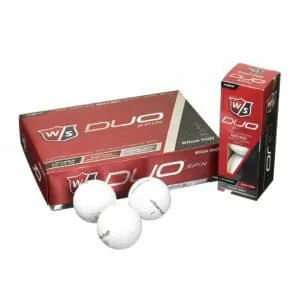 Very affordable
Easier to control
Faster speeds
| PROS | CONS |
| --- | --- |
| range off the tee which makes the feel softer | None |
| softest 3-piece golf ball ever | |
| long service life for a soft ball | |
| ionomer cover gives greater launch angles | |
| 3 item ball with mantle inside for greater feeling | |
2- Wilson Staff Duo Soft (Compression: 29)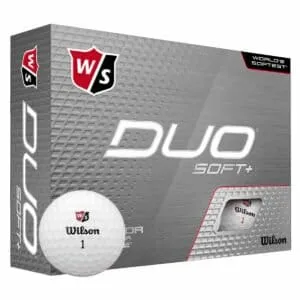 Lower compression rates
Softer than most balls
Affordable
| PROS | CONS |
| --- | --- |
| best golf ball for slow swing speeds | None |
| lowest compression golf ball ever | |
| can be produced in different colors | |
| two-piece golf ball | |
| Affordable | |
A good review: The Best Cheap Golf Balls
3- Callaway Supersoft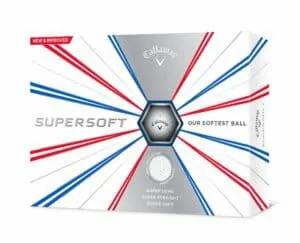 Surlyn Cover
Reduced compression
Faster speeds
| PROS | CONS |
| --- | --- |
| Really Reduced Compression | Not too soft |
| Reduced Spin On Long Shots | Less Spin Around Greens |
4-Srixon Q-Star Tour – Best For Seniors With Moderate Swing Speeds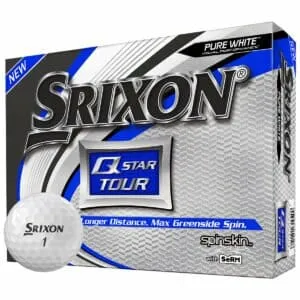 Impressive elevations
Urethane Cover
Durable, long-lasting balls
| PROS | CONS |
| --- | --- |
| Comparable To Premium Tour Balls | Clumsy compression |
| Good price For this type of Cover | |
| Urethane Cover (Great Short Game Control) | |
5- Titleist Tour Soft – Overall Best Golf Ball For Senior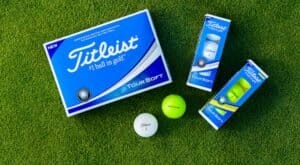 Superb elevation
Soft, satisfying feel
Easily maneuverable
| PROS | CONS |
| --- | --- |
| 65 Compression Rating | Less Spin Around Greens |
| Added Height on Iron Shots | Without Urethane Cover |
| Soft Feeling | |
How To Choose The Best Golf Ball For Senior Golf players
As a senior golf player, you have to increase the range you can obtain from your swing without refusing greenside controlling if you wish to carry on shooting scores that respond to your level of skill. Maybe it is high time to do away with that ProV1 that doesn't fly as far as it used to and consider these factors which are likely to change your performance in the game.
1- Compression Rating 75 Or Lower
As our top review is mostly about low compression golf balls, let's have a look at that first.
Considering all the causes stated earlier, I picked a compression ranking of 75 as the starting aspect. A number of elderly golf players manage to possess swing prices that may take care of much higher compression. Yet if it holds true so this blurb is not for you. You may have a look at other short articles on the net concerning optimum Golf Balls to find the very best alternative.
Our team may certainly not claim that there is a regular interpretation of what a "low" compression golf ball is, nonetheless looking for golf balls that have a compression ranking of 75 or perhaps reduced is actually a good start. A considerable amount of the balls in our testimonial are actually even lesser. Sometimes, the lowest compression golf balls may have appeared to be an excellent option for you.
2- Greenside Control
This aspect is nearly as vital as compression. The absence of control around the greens will possibly cost you much more strokes than losing range off your drives.
You also shouldn't overlook that if you are dropping a little swing rate, you'll complete striking longer clubs right into the green which will certainly install a more significant top priority on managing to rise and down. Being an elderly golf enthusiast, your capability and also experience around the green is probably your stamina thus perform certainly not go participating in a golf ball that flies off of the tee but carries out not supply you any type of spin or command around the environment-friendlies.
There are 2 main points while regulating around the eco-friendlies, the initial one is a path, as well as the second one, is actually a twist. A greater path is going to absolutely create the ball stop faster as well as having spin will manage just how it presents after it hits the green. You may moderate trail along with each ball nevertheless that isn't always achievable provided the lie and also posture of the try. So now our company are going to review a twist.
The main point here is that a softer ball with a softer cover will spin more. The thing is that pitches and chips will certainly roll out much less which can be really valuable on courses with rapid greens.
Recently, golf ball suppliers have made a lot of effort for producing balls that fly further with low compression and also much less spin off the driver while keeping cover soft for control around the green. These balls are definitely what you were looking for.
3- Soft Feel
This element is together with control of greenside. Yet it is not just that.
It mostly about individual preference if we talk about having a ball with a soft feel, which is why this is the last aspect to consider.
The feeling of a golf ball impacts your play from driver all the way to the putter. The feeling of a golf ball can give you self-confidence or destroy it. A softer ball offers you that feeling of pressing it as you strike it on the longer shots.
It likewise offers you a feeling of control on the shorter shots like wedge methods and greenside short game shots.
I believe that feel does matter a lot when it is on the putting green. It seems to me that a softer feeling ball sticks the clubface for a share of seconds (I understand you aren't actually pressing the ball with a putter but it is more about that feeling). That ensures you a better feeling of control. You can be a little extra aggressive with your putting hit which often tends to cause more strikes made.
Without doubts, you can have another impression and opinion as well, but still, I am sure that feel in a golf ball is an essential factor to take into account while choosing.
Advantage Of Low Compression Golf Balls
Do low compression golf balls go further?
Without going into the physical information of everything, a golf ball, when shot, gets a lot of its own power from the ball pressing versus the clubface and likewise rebounding off of it. The compression makes held power and also the rebounding is introducing that energy.
So it is the main reason why a sphere rock which is of the same weight as a golf ball definitely would not soar virtually regarding all golf ball do (it is certainly not the only cause certainly yet still). In order to get even more info on this subject matter, only tap "What Is Golf Sphere Compression" on the Internet and also read the articles for a little much more information on how it functions.
If a ball is too tough (like the rock we just discussed) as well as you aren't turning quickly enough to press it, after that you are missing out on a lot of possible power and momentum in that ball.
That suggests that if you have a slower swing speed (about 70-80mph) then a ball with a compression rating of 65-75 will take a trip farther than one with a score of 90-105.
If you want to know, a ProV1 has a compression of 90 but a ProV1x has a compression of 100. It means that if you aren't swinging your driver at least 90-95 then that Pro V1 doesn't go a long distance and Pro V1x in this situation is not so good as well.
In general, low compression balls appeared to be the best choice for golf balls for senior golf players. So with this in mind, all of the balls on this list have a compression score of 75 or even lower.
However, there are more points to take into consideration due to the fact that you need more than just low compression, you additionally need an ideal golf ball that gives you some opportunities to get scores and control as well.
Good review: Best Golf Irons for Mid Handicappers 2020
What's the Best Golf Ball Compression For Seniors?
We recommend opting for compression ratings lower than a 70 for seniors. Considering that we have actually identified what you need to search for in low compression golf round, you can currently find out the best ones which get on the market.
The option depends on your special needs because numerous of these items may be much better than others.
Like with any kind of type of golf round choice, the very best technique is to buy a box and afterward test them. The moment and number of dollars you'll spend testing out a couple of choices are likely to bring you some advantages quickly when your ratings, as well as variety, improve as you have the best ball which will help to boost your performance.
Reference:
The relationship between golf ball construction and performance

Latest posts by Nick Lomas
(see all)