Do you wish you had more versatility from your golf clubs?
If you're an experienced golfer, you'd know that this sport leads us to tricky situations more than we'd like to. Sometimes, you might need the forgiveness of a hybrid and the speed of a long iron at the same time.
This is where the best utility irons come into play.
What to look for in a UT iron?
Hollow body designs:

Hollow designs allow more power and speed to generate through various inserts and weights that improve the CG of the club.

Loft degrees: 

It's important to be mindful of what angle of the loft best suits you. This comes from a lot of practice and time invested in the sport so if you're unsure of what's good for you, anywhere between 19 and 25 degrees is optimal.

Weight:

Make sure your clubs are lightweight. Heavier irons are hard to handle and offer less control which defeats the purpose of versatility that these clubs offer.
Check out our buying guide for the best utility irons to find the one for you!
Best Utility Iron 2022:
Here's a list of all the top utility irons you can get right now.
A quick note: Utility irons are clubs for professionals and experienced players. If you're new to golf, you might need to educate about the differences and the basic nature driving golf irons to bring. For that, be sure to check out our buying guide below.
1- TaylorMade Golf P790 UDI Utility Club: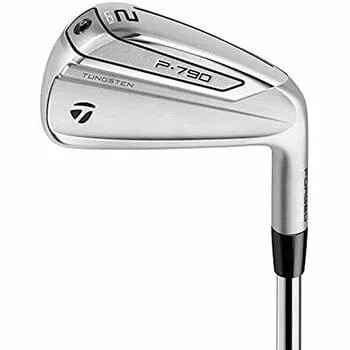 Why we love it:
Maximum versatility you can expect from a utility iron
Grooves carved on the face is some of the best we've tested
Exceptional at both driving and forgiveness
Sleek, minimal design
| PROS | CONS |
| --- | --- |
| UDI clubs are fairly compact | The brushed aluminum look might look sleek, but is bound to get scratches easily |
| Generous forgiveness | |
| 17-degree loft | |
| Graphite shaft | |
Learn More: Best Driver Loft for Distance
2- Cleveland Golf Launcher UHX Utility Club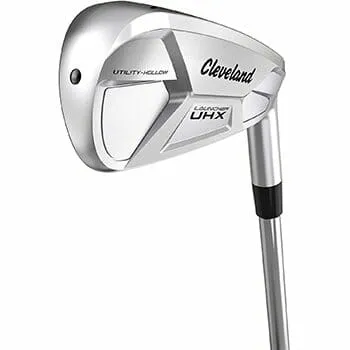 Why we love it:
Available in multiple lofts
A versatile iron with enough forgiveness
Hollow head design
Graphite shaft
| PROS | CONS |
| --- | --- |
| A long iron that also works as a promising hybrid | None |
| Hollow construction | |
| Available in multiple loft degrees | |
| Graphite shaft | |
Learn More: Most Forgiving Drivers
3- Cobra Golf King Utility Iron: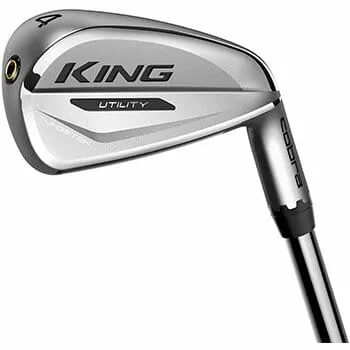 Why we love it:
Face Insert helps with better ball speeds
Tungsten weight for lower CG
Hollow forged design
Considerably forgiving
| PROS | CONS |
| --- | --- |
| Lower CG allows better handling | A bit heavier than most utility irons |
| Sleek and minimal design | |
| Solid forged build | |
| Multiple adjustable lofts | |
Learn More: Best Putters for Claw Grip
4- Wilson Staff Utility Iron 2 iron: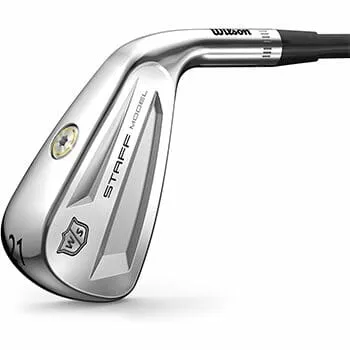 Why we love it:
Customizable weights
Brilliant design and robustness of the face
Very forgiving
Higher ball speeds
| PROS | CONS |
| --- | --- |
| Lowered CG | No left-handed variant. |
| Sleek design | |
| Very forgiving | |
| Available in multiple loft degrees and lengths | |
5- Srixon Z U85 Utility Club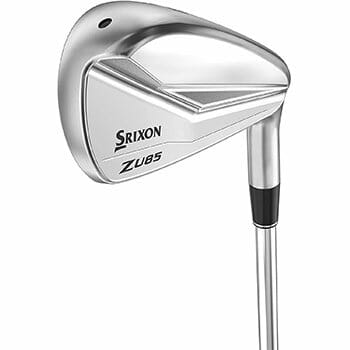 Why we love it:
Sleek looking utility iron
Forged construction
A simple design
| PROS | CONS |
| --- | --- |
| Grooves allow a consistent spin from fairway to rough | None |
| A perfect tool for professionals | |
| Multiple variants available | |
| Lightweight | |
6- Callaway X-Forged Utility Iron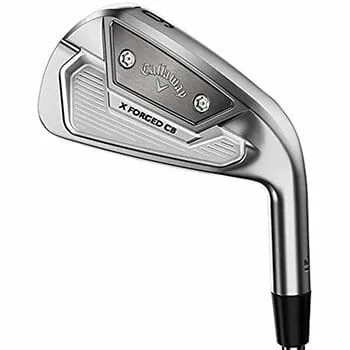 Why we love it:
High ball speeds
Premium materials
Available in various configurations
| PROS | CONS |
| --- | --- |
| Rigid construction | A little expensive |
| Easy to manage and handle | |
| Available in multiple loft degrees | |
| Lightweight | |
7- Cobra Golf King Utility One: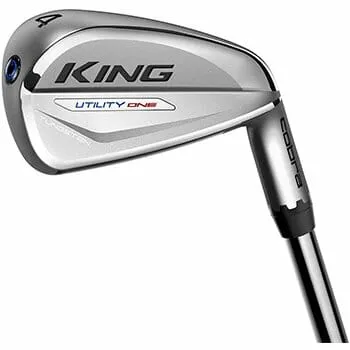 Why we love it:
Graphite Shaft
19.5 degree loft
Stiff Flex
A simple, unmistakable design
| PROS | CONS |
| --- | --- |
| A firm grip on the handle | No lofts lower than 19 degrees |
| Solid, durable build | |
8- TaylorMade GAPR LO Golf Club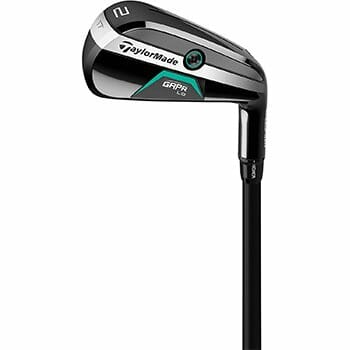 Why we love it:
Increased CG for handling
Hollow design
Sleek design
Accurate shots
| PROS | CONS |
| --- | --- |
| Very accurate at longer ranges | Made more like a hybrid than a utility iron |
| Fairly Forgiving | |
| Impressive launch speeds | |
9- LAZRUS Premium Golf Irons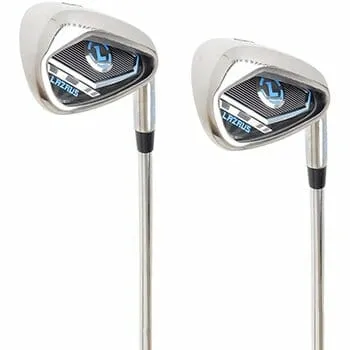 Why we love it:
Very affordable
Respectable performance
Multiple options to choose from
| PROS | CONS |
| --- | --- |
| Cheapest UT irons out there | None |
| Respectable performance | |
| Easy to play with / adapt to | |
Buying Guide for Best Utility Irons:
1- What exactly is a Utility Iron?
Sometimes, a long iron can be a little troublesome if you're getting the speed you want but since they're not overly forgiving, you tend to mishit a lot of balls. This is where hybrids come in, with their large surfaces with huge sweet spots to hit the balls on. But hybrids tend to sacrifice accuracy, so picking shots and being critical with your strikes become very hard.
This is where Utility Irons come in. They are made to become a complete middle ground between long irons and hybrid clubs. They tend to deliver high ball speeds but also offer considerable forgiveness that helps with accuracy. This versatility is brought with cleverly designing the clubs which mainly include a hollow forged formation with a lofted degree lift.
So to give a simple explanation: UT irons are a crossover between long irons and hybrids. They become a perfect club to keep when you run into tricky circumstances on the golf course.
The level of options these clubs bring makes them viable for experienced and professional players only. A novice player would find themselves scratching their heads with this so if you're new to this, you might wanna check out the last product featured(or check out on some used driving iron deals).
Considerations to Make Before Purchasing a Utility Iron
Purchasing a utility iron might be challenging at times, so we urge you to choose one that is worthwhile. Here are a few things to consider when purchasing a driving iron. 
Type
Determine which club from a utility iron, long iron, or hybrid would be ideal for you as a beginner. Each has its own set of advantages and disadvantages, but the hybrid is a little more adaptable because you can use it well in both light rough as well as around greens.
Some people, on the other hand, may want a profile more akin to an iron – and the utility iron is a fantastic choice in that situation. A player that has a long iron in their bag is probably a consistent striker.
Distance
A driving iron must undoubtedly provide considerable distance while maintaining workability. Both features are crucial since you need to cover the hole at the top of your bag and also need to be able to drive and move the ball with a driving iron.
Course
What sort of golf course do you enjoy playing on? We believe that this is a relevant question to ask when considering a utility iron because if you play on a links course, a driving iron is ideal for low strokes below the wind. On the other hand, if you play on parkland, a driving iron probably won't make as much of an effect in the bag.
Grapping
Knowing the range of each club in your bag is among the most crucial things to know. A driving iron will fit well, for instance, if you are aware that there is a significant space between your three-wood and the first iron. Therefore, you can determine the loft of the driving iron by understanding the gap you have to fill at the top of the bag.
Frequently Asked Questions
Do utility irons come with extra forgiveness?
Utility irons are much more forgiving than standard long irons because of their larger, hollow heads. For shots that are poorly hit, they still provide sufficient distance and precision. Furthermore, because of the increased sweet spot and lower CG, they are easier to launch and provide faster ball speed and a wider launch angle.
Does a utility iron serve as a substitute for other kinds of irons?
A golf club called a utility iron is usually used instead of a long iron, hybrid, or fairway woods. The utility iron has a long iron-like appearance, but its base or sole may be slightly heavier. This extra weight is used to assist a golfer with launching the ball and escaping a trickier lie.
What are the benefits of using utility irons?
For players with faster ball speeds, utility irons are typically a good choice. A utility iron is a better choice if a golfer frequently spins the ball more than usual because it can help to improve ball control while requiring less spin. They are also a very good option for a golfer who struggles with hybrids. 
[/su_expand]
Reference:
Analysis of the 5 iron golf swing when hitting for maximum distance

Latest posts by Nick Lomas
(see all)