Are your golf grip bigger than the size of your hand?
 Having a grip that is perfect for your hand size can improve your game and bring out the pro in you.
If you have comparatively smaller hands it might be difficult for you to find a grip that suits you. However, you do not need to look any further as we have put together a list of the best golf grips for small hands! Your perfect fit might just be a few scrolls away.
Material: Various materials are used for this to make the handles as grippy as possible. Ranging from leather to rubber to multiple compounds, everything is available. You must consider which material you like to hold in your hands and which material helps you play better. You must also consider the weather conditions you mostly play in and which material would better suit those conditions.  It also depends on whether you like a thick feel in your hands then you might like a thicker material like leather more. In the same way, if you enjoy a lighter feel you might want to consider a rubber grip or a multiple compound grip.
Aesthetic: As we have just established that the size and feel of the golf grip are important, in the same way, the aesthetic of the golf grip is also important. A golf grip that looks good in your hands can inspire more confidence in you and help you with your game even more. It might not be the most important factor when choosing a perfect golf grip but it is definitely up there with the rest of the deciding factors. Golf grips usually don't have a very vast range of prices hence cost is not an important deciding factor. However, the more aesthetically pleasing ones might cost a fraction more.
Be sure to read the buying guide for best golf grip for small hands and choose the one for you
Best Golf Grip For Small Hands 2022:
Here are some of the top picks of top golf grips for small hands
1- Golf Pride MCC Plus4 New Decade MultiCompound Golf Grip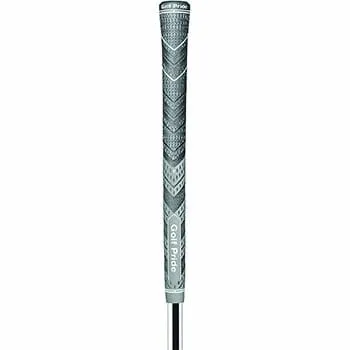 Why we love it:

Lightweight
Comes in multiple colors
Thin
| PROS | CONS |
| --- | --- |
| Soft to touch | Does not come with tape |
| Good for sweaty hands | Expensive  |
| Larger lower hand | |
| Non-slip | |
Learn More: Best Golf Clubs for Petite Ladies
2- SuperStroke Cross Comfort Golf Club Grip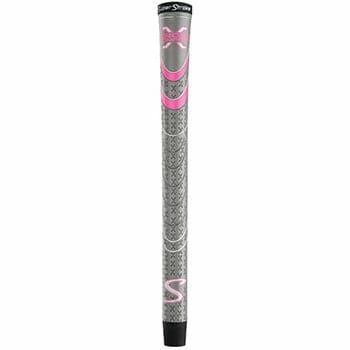 Why we love it:

Tacky Polyurethane outer layer
Firm rubber inner layer
Cross Comfort X pattern
| PROS | CONS |
| --- | --- |
| Great feel | No tape included |
| Comfortable  | Need to be changed quicker than others |
| Great torsional performance  | |
| Extra traction  | |
Learn More: Best Golf GPS
3- Golf Pride MCC New Decade MultiCompound Golf Grip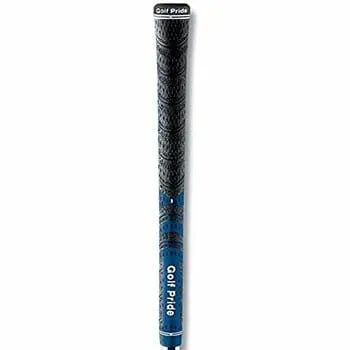 Why we love it:

Hybrid grip
MultiCompound
Blue and Black color available
| PROS | CONS |
| --- | --- |
| For ambidextrous use | Tricky to install |
| Great design | |
| Comfortable feel | |
| Light in weight  | |
Learn More: Best hybrid golf clubs
4- Winn Dri-Tac Undersize Grip Kit (13-Piece)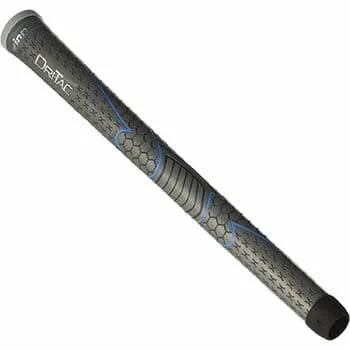 Why we love it:

Comes with 13 pieces
Kit includes tape
Bottle of grip solvent included
| PROS | CONS |
| --- | --- |
| Easy to install | Soft |
| Extra tacky  | |
| All weather playability  | |
| Glove-like fit | |
| Added stability  | |
5- SuperStroke Traxion Tour Golf Club Grip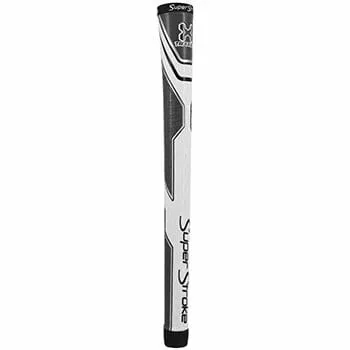 Why we love it:

Advanced surface texture
Extreme Grip
Taper control technology
| PROS | CONS |
| --- | --- |
| Improves feedback  | Does not come with tape  |
| Extra tacky  | |
| Improves stability  | |
| Evens out hand pressure | |
6- Winn Ladies Dri-Tac Gray/Pink Undersize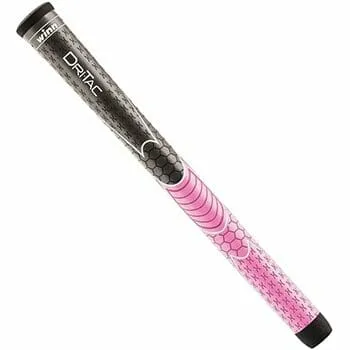 Why we love it:

Undersized
WinnDry polymer
Non-slip
| PROS | CONS |
| --- | --- |
| For small hands | Right handed use only |
| Tacky | |
| Cushioned and comfortable  | |
| For all weather conditions  | |
7- Golf Pride Tour Wrap 2G Golf Grip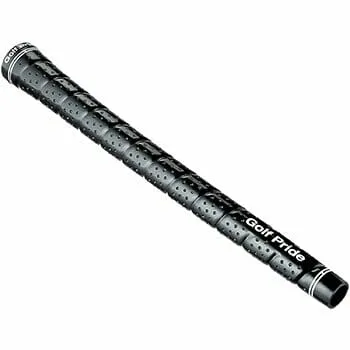 Why we love it:

ALIGN technology
Raised ridge
Maximum surface texture
| PROS | CONS |
| --- | --- |
| Provides consistent hand placement  | Can affect the weight of the club |
| Promotes a square clubface at impact | |
| Great control | |
| Stability in all weather conditions  | |
8- Lamkin Crossline Standard Golf Grip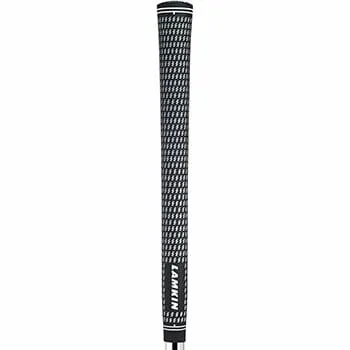 Why we love it:

Distinctive surface pattern
Firm material
Made of synthetic rubber
| PROS | CONS |
| --- | --- |
| Affordable  | Tricky to install |
| Grip stability  | Does not come with tape |
| Greater control and consistency | |
| Highly durable  | |
9- SuperStroke S-Tech Rubber Golf Club Grip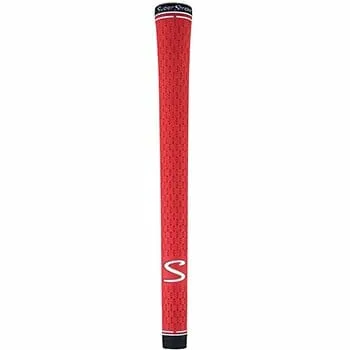 Why we love it:

Cross traction surface texture
Rubber compounds
Taper control technology
| PROS | CONS |
| --- | --- |
| Excellent control  | Has a softer feel |
| Extreme stability and feedback  | |
| Even hand control  | |
| Ambidextrous use | |
10- KINGRASP Multi Compound Golf Grip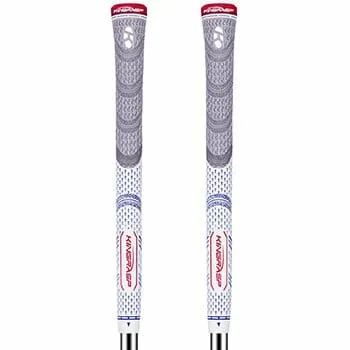 Why we love it:

Compound material
Different colours available
Shock absorption
| PROS | CONS |
| --- | --- |
| Affordable  | Rough to touch |
| Moisture resistant  | |
| For all weather conditions  | |
| Reduced pressure on hands | |
11- Karma Velour Ladies Black 13 Piece Golf Grip Bundle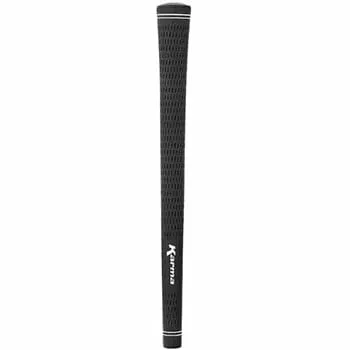 Why we love it:

Available in different colours
13 Grips
Ribbed version available
| PROS | CONS |
| --- | --- |
| Affordable  | No grip tape  |
| Proven grip pattern  | No grip solvent  |
| Easy to hold | |
| Easy to clean  | |
| Improved alignment  | |
Conclusion 
The importance of a golf grip that is perfect for your hand size is often overlooked. People do not realise that the size of the grip you use can have a great effect on the way you play and using the grip that is for your hand size can have immediate results. If you have smaller hands then you should not settle for larger golf grips and instead choose the ones that are made for your own hands and which help you bring out the champion in you.
Buying Guide for Best Golf Grip For Small Hands:
Size
Golf grips come in various sizes to suit all different players. To choose the perfect grip for you, you must consider the size of your own hands. If you have smaller hands you must go for undersized golf grips as they will suit you more and be more comfortable for you. Before buying a golf grip you need to be sure that it fits both your hands perfectly otherwise instead of improving your game it might take away from it.
Firmness
It's also important to think about how firm a golfing grip is. Professional players typically like grips that are more firm because they enable better torsion control to accommodate their quick swings. Firmer grips encourage a softer grip from the player, reducing the temptation to squeeze the club to death. A softer grip pressure can increase swing speed.
Maintenance
The longevity of the grips can be extended by checking them often and making sure maintenance is done. Grips can wear out and occasionally start tearing. Regular cleaning is one approach to increasing longevity. Most grips can be cleaned by using a moderate dishwashing detergent. After cleaning, simply rinse the grips with warm water to remove any remaining soap. Air dry them or use a towel to remove the remaining water. 
Durability
The durability of new golf grips is another thing to think about. The weather, how you store the grip, and other factors can all affect how long a club's grip lasts. If you play golf frequently, you should replace your grips once a year at the very least.
FAQS
1- What makes a small grip size?
Hand measurements that go below 7 inches are particularly deemed to use smaller grips for better handling of the clubs.
2- What happens if golf grips are too big?
Bigger golf grips are simply hard to control. As the size and weight of the grips increase, so does the difficulty.
3- How to know your grip size?
All you would want is a simple measuring tape. Measure the length from the center of your hand, all the way to the tip of the middle finger. The measurement you get is your grip size.
4 –  Are grips on golf clubs important? 
One of the most underappreciated parts of a golf club is the golf grips – even though they are vital. Most golfers pay attention to the shaft weight, club head loft, and other features of a golf club. However, the grip is the primary point of contact you have with the golf club, so comfort and adequate traction are essential to guaranteeing your hands have a secure grip on the club before striking.
5 – How can I tell if my golf grips need replacing?
One sign that your grips may be worn out and need to be replaced is that they start to feel slick. Instead of having that sticky, harsher feeling like when you initially buy them, slick grips will feel extra slippery. You can lightly sand grips to give them a rougher feel again during the early stages to extend their lifespan.
6- What is the cost to re-grip an iron?
Regripping golf clubs can range in price. The least expensive option is to do it yourself because golf grips are quite simple to change. However, depending on whether you're regripping a complete set of clubs or not, you may expect to pay between $70 and $140 if you decide to hire a professional. You might be able to negotiate for a deal under $70 to regrip just a few specific clubs.
7- How do I choose the perfect size for my golf grips?
The majority of golfers use a grip that is between .58 and .60 inches in diameter. To determine which grip size is most comfortable for you, you should practice holding clubs with several grip sizes. Fortunately, there are five different grip sizes to choose from, ranging from junior to oversized. Test the usual size first, then one size larger and smaller.
Reference:
An electromyographic study of the effect of hand grip sizes on forearm muscle activity and golf performance

Latest posts by Nick Lomas
(see all)