Finding yourself lost in a golf course or perhaps not monitoring your performance are two things you should never deal with. Luckily, there is one small gadget that can be fixed them for you: golf watches.
There has been an abundance of some of the best golf watches in UK one can expect in 2022. With superior shot monitoring to pre-loaded golf courses, it's safe to assume that technology has served this sport quite well. So in a pursuit to make your golf courses an awful lot easier and productive at the same time, we present the most amazing golf watches you can get in UK
You can check our buying guide before diving into the product list below
Best Golf Watches UK in 2022:
Here are the top golf watches UK that you can get right now! Every product is moderately priced, giving the most for what they're asking.
1) Garmin Approach S10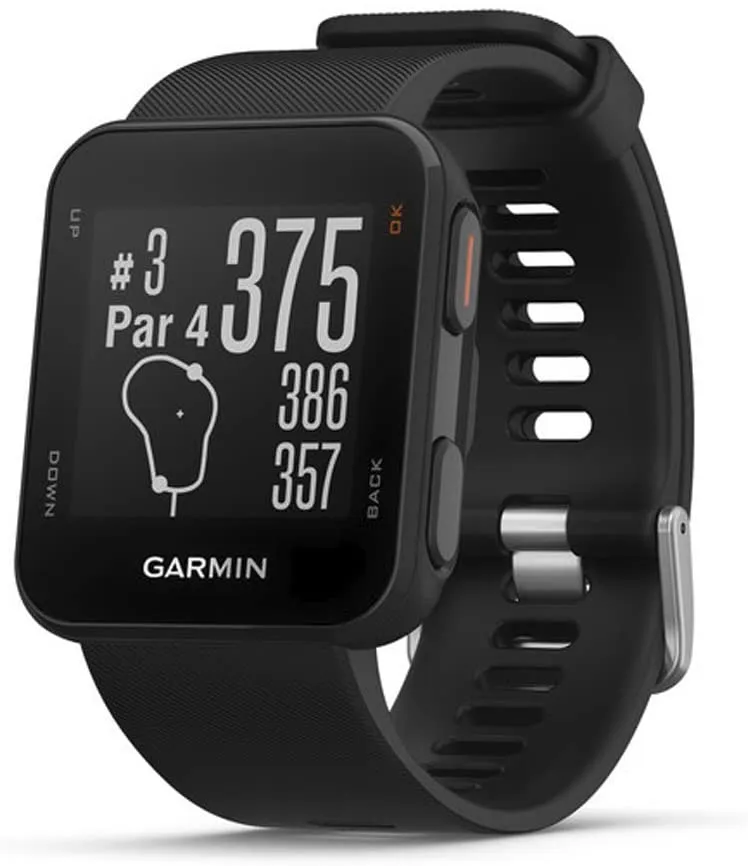 Why we love it:
easy to use
lightweight and accurate
strong shock-resistant glass
| PROS | CONS |
| --- | --- |
| rechargeable battery | takes a little time to spot |
| lasts 12 hours. | |
| clean and seamless UI | |
Read More: Best Golf Rangefinders with Slope
2) Garmin Approach S40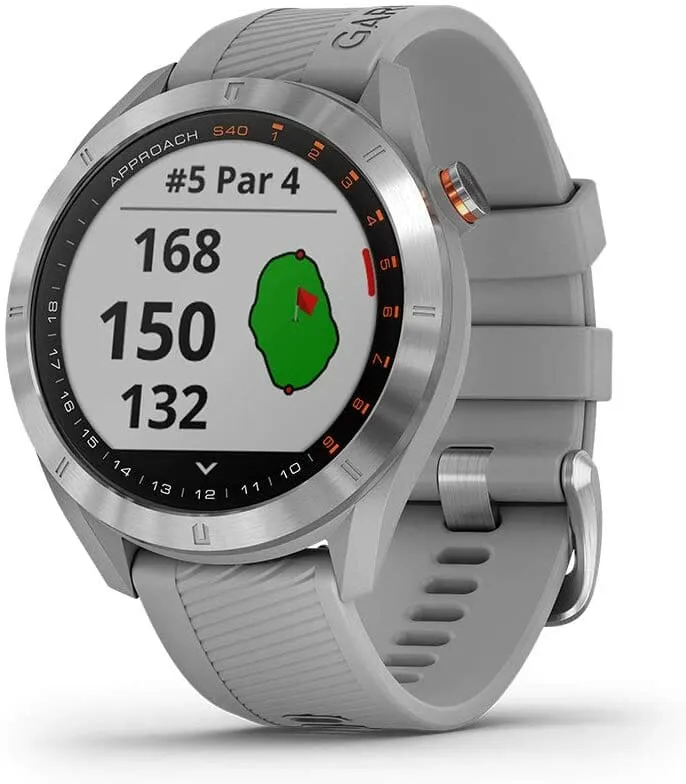 Why we love it:
excellent battery life
can also be used as a fitness tracker
brilliant tracking
simple and unmistakable UI
| PROS | CONS |
| --- | --- |
| It has a capability to detect the shot distances. | The screen freezes sometimes. |
| Hhas a green view feature for manual pin positioning | Require restart option repeatedly. |
Learn More: Best Golf GPS
3) Garmin Approach S20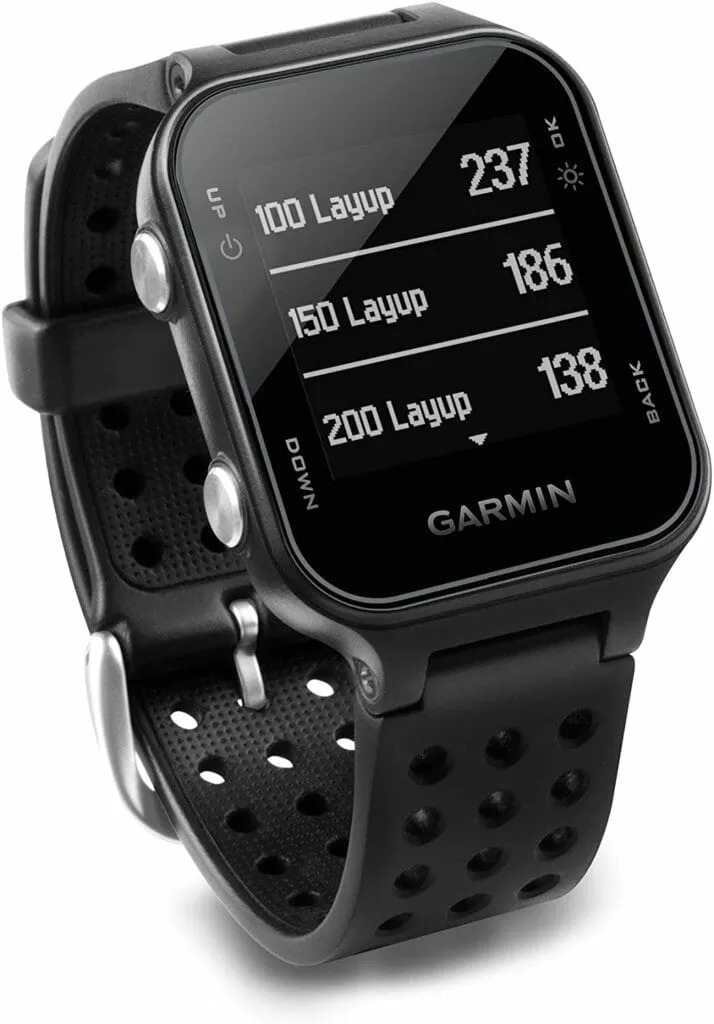 Why we love it:
Brilliant tracking
Calorie counter
Minimal design
| PROS | CONS |
| --- | --- |
| Comfortable and ergonomic design | battery life is very less. |
| Comfortable and ergonomic design | It supports buttons only. |
| | No touchscreen |
4) Canmore TW-353 GPS Golf Watch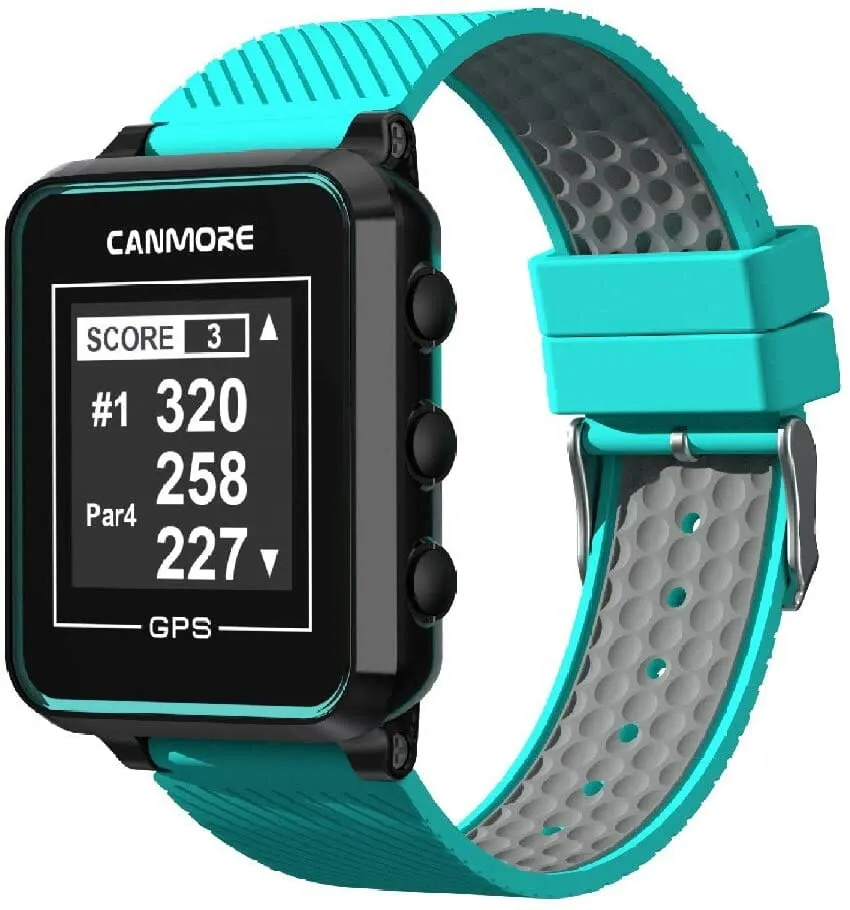 Why we love it:
Lightweight, easy to carry on the wrist
The rubber strap makes it comfortable for longer sessions

M

onochrome contrast makes it easy to read in the sunlight.
| PROS | CONS |
| --- | --- |
| Can change the hole immediately just after the first shot | It cannot switch between the 12-hour and 24-hour format. |
| It finds the golf course distance immediately. | Buttons are slightly stiff and hard to press |
5) Golf Buddy Aim Golf Watch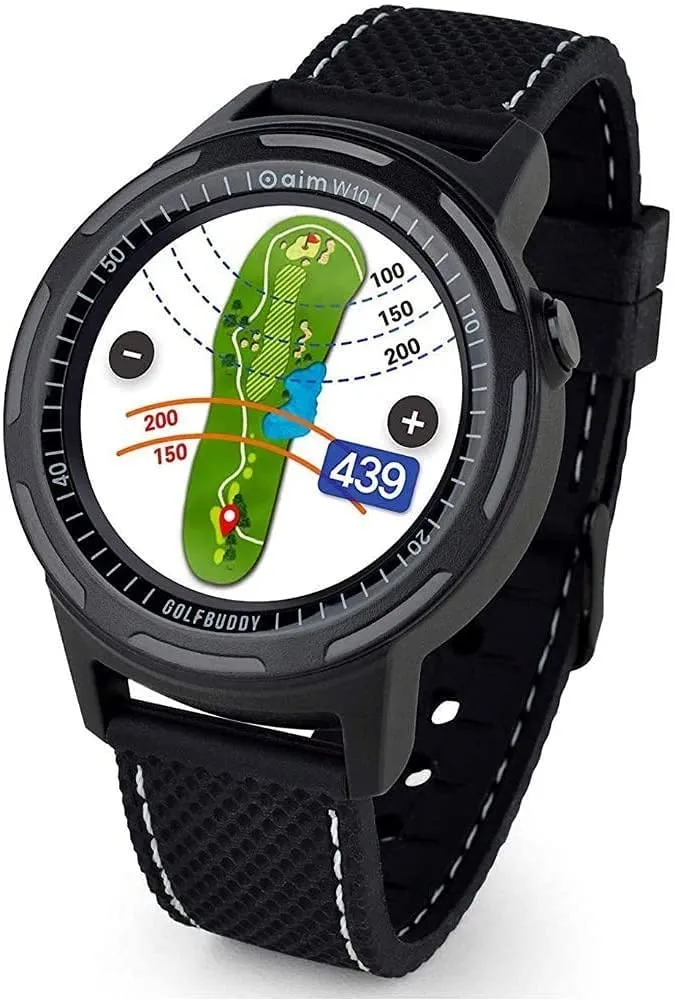 Why we love it:
Its hole overlay is very great
Its sense to see the distance of the greens is very amazing.
| PROS | CONS |
| --- | --- |
| It allows two rounds of golf to play with the batter not dead. | no Bluetooth. |
| It is a soft and comfortable watch. | Disappointing battery life |
6) TecTecTec ULT-G Golf GPS Watch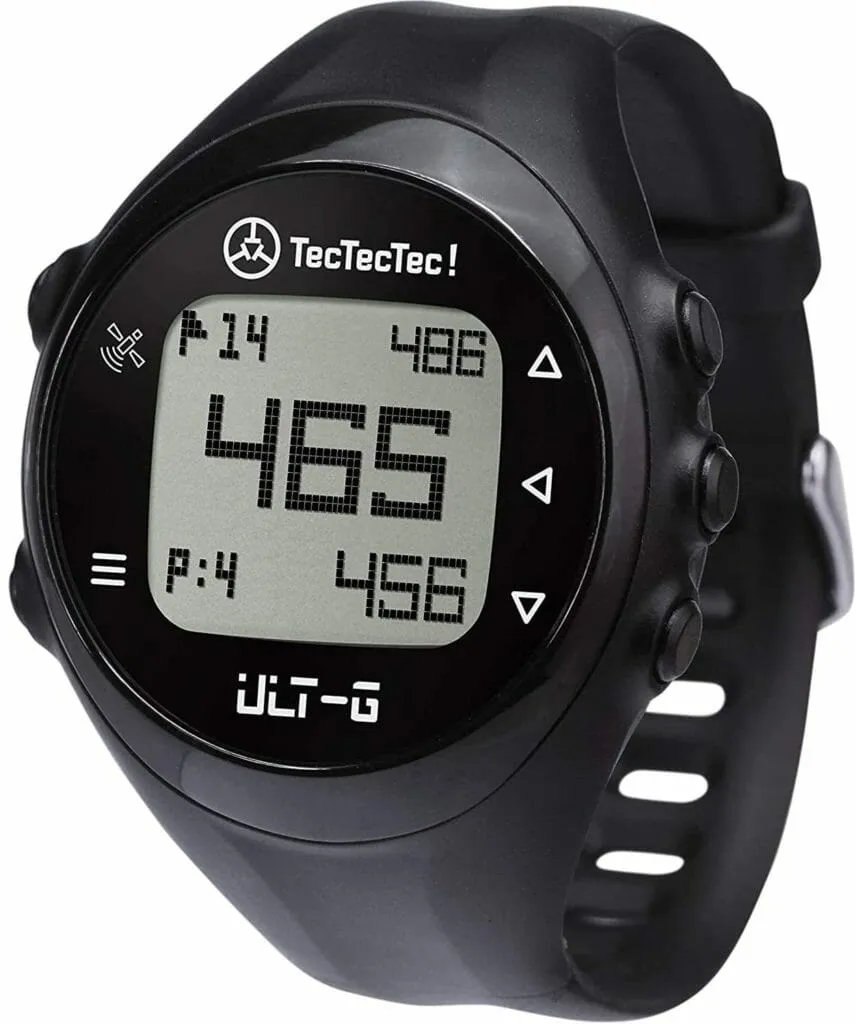 Why we love it:
ULT-G enhances the battery life
battery power allows 2.5 rounds to complete
very affordable.
| PROS | CONS |
| --- | --- |
| Minimal and easy to use | None |
| LCD display | |
| Has Bluetooth | |
7) Izzo Golf Swami Golf GPS Watch
Why we love it:
Bright screen, visible in daylight
1-year warranty
decent tracking and monitoring
| PROS | CONS |
| --- | --- |
| Rechargeable lithium battery. | Battery life is quite less than 10 |
| Display is very wide and easy to read. | The guide that comes with it is not well-explained |
8) Garmin Approach S60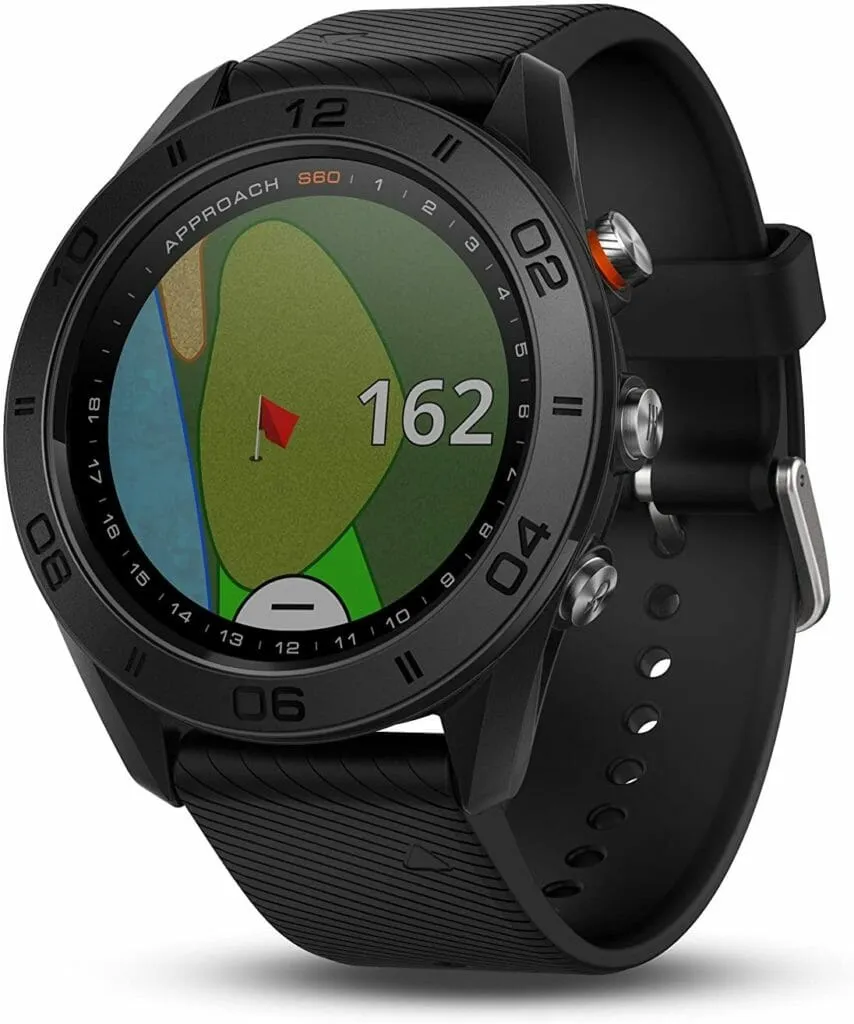 Why we love it:
It is a comfortable and latest watch.
It has amazing golf distance watch reviews in the UK
| PROS | CONS |
| --- | --- |
| Its battery life is amazing, supporting 10 to 24 hours. | Its warranty is a minimum of 90 days only. |
| It quickly gets the position and yardage of the greens. | No batteries included |
9) SkyCaddie LX5 GPS Golf Watch
Why we love it:
It has a zoom-in and pans feature to show up the extra details on the screen
It also supports Wi-Fi.

LCD display
| PROS | CONS |
| --- | --- |
| Its touchscreen is very large and bright. | None |
| It supports HD color graphics that are new. | |
10) Shot Scope V2 Smart GPS Golf Watch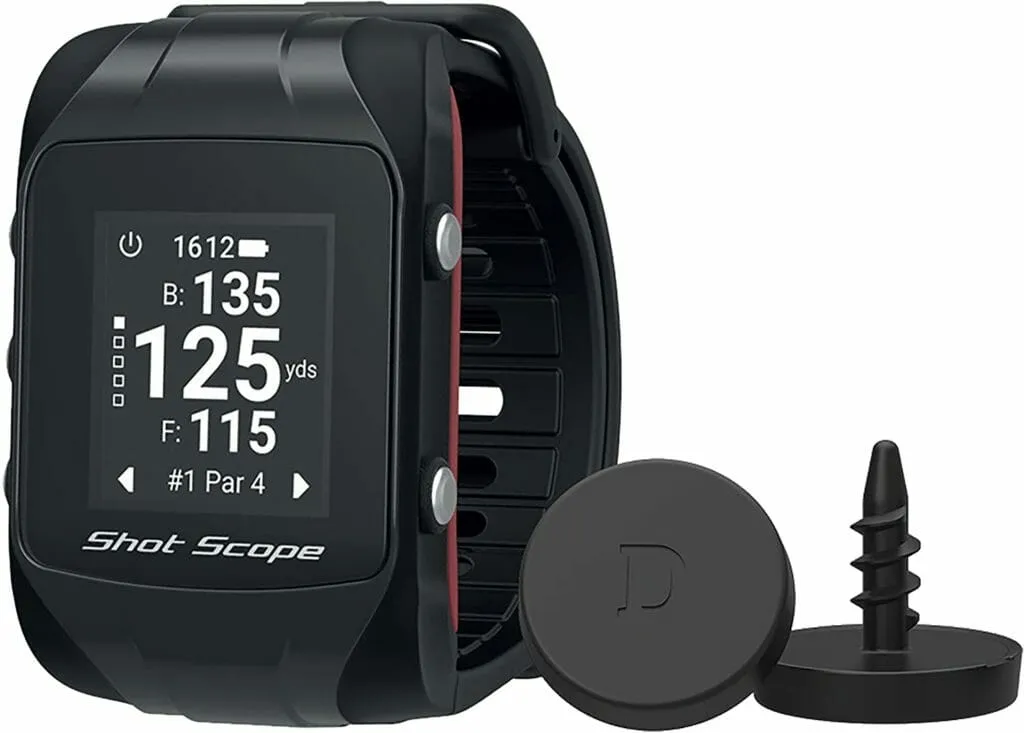 Why we love it:
Bigger display

V

ery accurate
Affordable
| PROS | CONS |
| --- | --- |
| It is accurate and easy to use. | The side buttons are so soft and mushy |
| It provides an excellent overhead view of the course. | Unusual button placements |
Conclusion:
Golf can also be played without using a golf watch. But for this we will have to use our phone to locate the greens and other blockages. Using a mobile phone again and again can be a difficult thing to do during a golf match. By using a golf watch, the game can go to the next level. Buying the best golf watches with gps can lead to the easy winning of the game very easily.
Buying Guide for Best Golf Watches UK:
Here's what to look for before buying a golf GPS watch:
GPS Tracking:
The most important part of all golf watches is their tracking. If they are flimsy with their accuracy, this can really frustrate the player and kills the purpose of the watch in the first place.
Battery Life:
You should not compromise on battery when looking for a watch. The last thing you'd want is to be lost on the golf course with little navigation.
Performance tracking:
Not all performance tracking is accurate and most of the time can it can be considered as a gimmick. Certain golf watches claim to show accurate results but rarely do so. We recommend getting golf watches that pair up with an external tracker to help calculate the results.
Display:
GPS watch screens come in two primary varieties: touchscreen and non-touchscreen.
Touchscreen watches, as you might expect, are typically more costly and also tend to have additional features, such as colored hole charts and genuine green views. On the other hand, non-touchscreen screens often have few visuals and are black and white.
We find that touch screens aren't always easier to operate, and occasionally take some getting used to. How successfully you use the watch will also depend on the size of your fingers and hands.
As they're both useful and effective, neither one of these display types is purely "better".
Your Routine:
It's crucial to consider your routine on the golf course when choosing to purchase a golf watch. Are you a strong player who only needs to quickly scan the statistics on a display, or are you more of a careful player who prefers to have as much data as possible before deciding on a shot?
Be cautious of how you approach the game because there are designs that fit into certain routines and playing styles. In the end, looking at a watch is faster than pulling a smartphone out of its case or moving pointers around the screen, so consider if you value greater detail or less interruption more.
Golf Course:
Next, it's important to think about the kind of golf course you frequently play on. We've discovered that courses call for the comprehensive GPS data of a watch, whilst others that are farther in front of you may be ideally adapted to the convenience of a laser.
Additionally, you might want the added information a GPS delivers over a lasers if you play at various clubs for competitions. Be mindful of the number of golf courses are already preloaded on various watches.
Weight and Feel:
It's crucial to think about how the watch feels on your hand. In essence, this is crucial because if it's too big or weighty, it might get in the way of your swing, and you don't want that.
The perfect golf GPS watch needs to be light, comfy, and feel almost completely unnoticeable.
Heavy watches might be acceptable, but you need to make sure they won't interfere with your swinging. Get another watch if you do discover that a GPS watch is impairing your swing.
You also have the choice of purchasing an alternative replacement if, for any reason, you aren't happy with the band of your watch.
Budget:
Budget should be brought up last. There are affordable choices if you prefer a straightforward model. However, models with ultra-premium features are an option if you want to pay extra money – it's all up to you!
FAQs:
Should I rely on the golf watch's performance tracking?
As mentioned before, this tracking can only be seemed believable if the watch uses an external tracker to read swings and ball speeds. It's hard for a watch to come up with concrete results otherwise, in our opinion at least.
Do I really need pre-loaded golf courses on my golf watch?
Although this is a neat feature that we'd love to use, but not having this is not a deal-breaker. What your watch should have this a trustworthy GPS that can track easily.
Should my golf watch come with Bluetooth?
Becomes a yes in two scenarios: If you wish to transfer data to your phone or any other device; Second if the watch requires an external device for performance tracking. Otherwise, you'd be good without one.
Which is more advantageous, a GPS watch or a laser rangefinder?
A watch will provide ease and simplicity for you, although some golfers may prefer the laser rangefinders' pin-point flag precision. The main advantage of bigger handheld GPS systems is their bigger screen, which provides much more details, and their touch-screen interface, which is familiar to most users of cell phones.
Reference: Impact of DGPS post processing techniques and course mapping and on evaluation of outdoor athletic performance in walking golf

Latest posts by Nick Lomas
(see all)