Do you want to up your golf game but lack the resources? 
Well, now you won't have to go to the golf course on a daily basis to practice golf with these perfect golf practice nets UK. We know that golf is fun and addictive, especially if you get the hang of it but it is not as easy as it seems. So how can you improve your game while avoiding the hassle of going to a country club every day?
The answer is simple! Get yourself some driving nets for golf practice and you're good. This might not seem as fun as actual golf but trust me, it is a close second, especially if you need to upgrade your game. It is also a perfect option considering the circumstances; you can avoid going out to a public place if you can just practice at home!
Things to consider before buying:
What do you need to practice?
Moving on, think about which type of game do you need to practice the most; long-distance, short-range, chipping, etc. Pick out the net that meets your gaming requirements, don't just go on the design but focus more on its purpose and usability.
Price: Once you've cleared up the above-mentioned queries, then comes the price. This is perhaps the most important one. You definitely want the one that fulfills all your needs but you also need it to match your pocket. You don't need to go overboard to get a good net, you can most definitely find the one in your budget. So keep on looking until it checks all your boxes because the perfect net is just around the corner! 
 For a more in-depth look at what you need to know before buying the net, check out our buying guide. 
Best Golf Practice Net UK in 2022:
Here's our list of the top golf practice net UK:
1. Golf Chipping Net by Longridge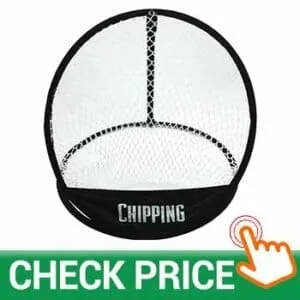 Why we love it:
Low price
Made for single players
Size: 20′ W x 13′ H
53 cm diameter
Collapsible design
For indoor and outdoor use
| PROS | CONS |
| --- | --- |
| ✅Very affordable | ❌No target holes |
| ✅Will last long | |
| ✅Assembly does not require any hassle | |
| ✅Will help improve your aim and distance control | |
Read More: Best Putting Mat UK
2. Callaway Chip Shot Golf Net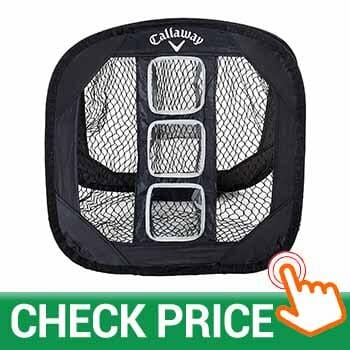 Why we love it:
Net size 66 x 66 cm
Moderately priced
Includes 3 targets for practice
Perfect to train for with a wedge
Very light
Comes with a carry bag
| PROS | CONS |
| --- | --- |
| ✅Various targets for practice | ❌Not big enough to collect balls |
| ✅Can be used indoors and outdoors | |
| ✅Compact and light - easy to carry around | |
Read More: Best Backyard Golf Net
3. PGA Tour – Perfect Touch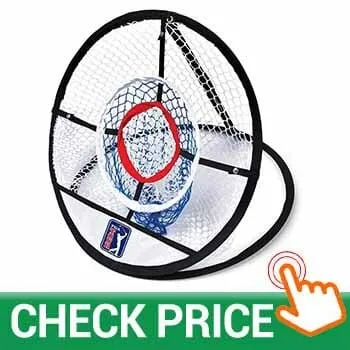 Why we love it:
Under 20 Pounds
Diameter of 50.8cm
Includes a Tour Training DVD by PGA
Perfect for home use
| PROS | CONS |
| --- | --- |
| ✅Can be used indoors and outdoors | ❌Center and middle ring to close to each other |
| ✅Instant pop up design for easy installation | |
| ✅Folds for easy storage | |
| ✅3 different sized nets for target practice | |
Read More: Best Golf Simulator Under 5000
4. PGA Tour Pro Size Driving Net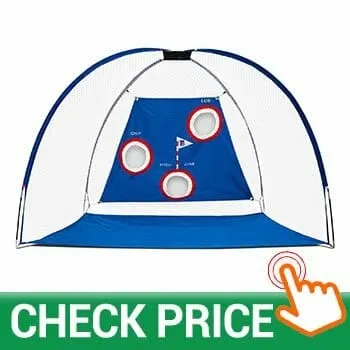 Why we love it:
Height 214cm/7′ – Width 305cm/10′ – Width 153cm/5
Indoor use and outdoor use
Simple construction
Has a groundsheet as well
3.9KG weight
Comes with a storage bag
| PROS | CONS |
| --- | --- |
| ✅Comes with a metal ring clip | ❌Expensive |
| ✅Easy and quick installation | ❌Inner target can't withstand the wind |
| ✅Can be used anywhere | |
| ✅high quality materials | |
| ✅Large hitting area | |
| ✅3 target practice holes | |
5. SAPLIZE Golf Practice Net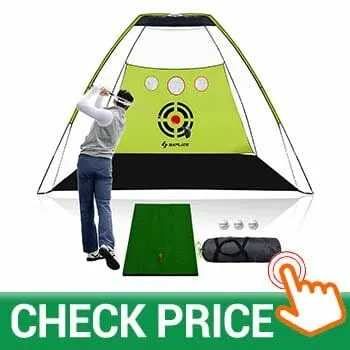 Why we love it:
12 by 24-inch practice hitting mat
Size : 10′ (L) X 7′ (H) X 7′ (W)
Rubber tee holder
Attached with fibreglass poles, 11mm
Yard polyester mesh
| PROS | CONS |
| --- | --- |
| ✅Wider hitting area | ❌Quite high priced |
| ✅Outdoor use | ❌Difficult to assemble |
| ✅High quality materials | ❌Inconvenient indoor use |
| ✅Ball collecting net | |
| ✅Comes with a mat | |
| ✅3 target practice holes | |
6. Aoneky Golf Sports Practice Barrier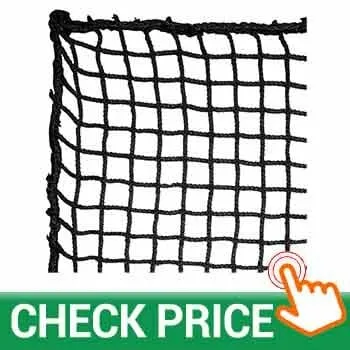 Why we love it:
3mm code made of polyester
1-inch square mesh
Can be hung anywhere
Works great as a barrier net
Knotless mesh
| PROS | CONS |
| --- | --- |
| ✅Easy to install anywhere | ❌Basic design, no target holes |
| ✅Can be hung on any pole, cable or wire | ❌Expensive for what it provides |
| ✅High quality and durability | |
| ✅Perfect for practice shots with iron | |
7. QUICKPLAY Quick-Hit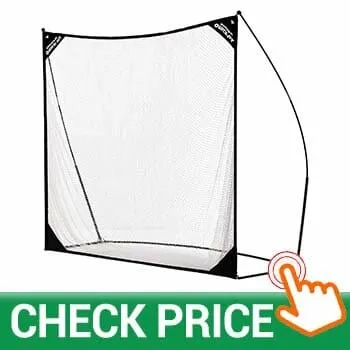 Why we love it:
Fast set up
Durable frame and net
Comes with a carry bag
Large hitting area
2 different sizes
| PROS | CONS |
| --- | --- |
| ✅A bigger hitting area, perfect for beginners | ❌Weak net - prone to breakage |
| ✅Flexi post technology | ❌Basic design |
| ✅Pre attached poles so it is easy to install | ❌Very expensive |
| ✅90 second set up | |
| ✅Available in 2 different sizes so you have option | |
8. Champkey TEPRO 10′ x 7′ Golf Hitting Net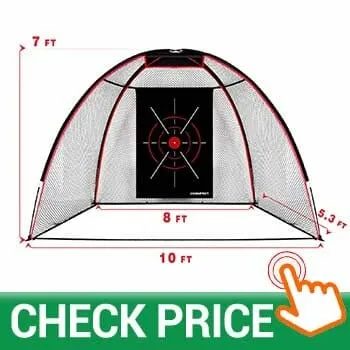 Why we love it:
Size : 10′ [W] x 7′ [H] 
Stable  structure
Tray Mat included
Target practice
Fiberglass frame
5 ply knotless netting
| PROS | CONS |
| --- | --- |
| ✅Larger in size | ❌Sized exclusively for outdoors |
| ✅Allows the use of real golf balls | ❌Very expensive |
| ✅Has a target practice mat | |
| ✅Comes with a hitting mat with different bases | |
| ✅Portable design | |
9. AmazonBasics Portable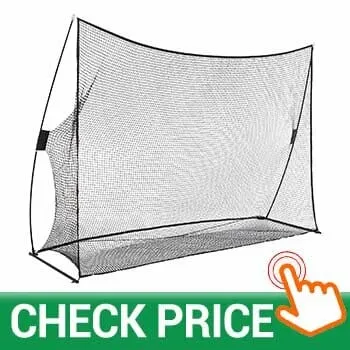 Why we love it:
Size: 304.8 by 304.8 by 91.44 cm
Weight: 8.07 KG
Made of metal and fibreglass
Large hitting area
Basic net design
Easy to set up and takedown
Comes with a carry bag
| PROS | CONS |
| --- | --- |
| ✅Larger surface area | ❌A bit overpriced |
| ✅Indoor/outdoor use | ❌No targeted practice |
| ✅Easy installation | |
Conclusion
After a lot of hard work, we have finished a list of all the most amazing golf nets for you to peruse at your leisure. This article is not only our research and time but our blood sweat and tears so hopefully, you'll find what you're looking for!
Buying Guide for Best Golf Practice Net UK:
If you are still confused about which net to choose, we've got your back. Check out our guide below to make a better decision when looking for a substantial net.
Indoor or Outdoor?
The first thing you have to figure out is are you a more indoor player or an outdoor one? Do you like the comfort of your own home or do you prefer the fresh air while you practice? Depending on those answers, choose the product that fits your needs. If you want my suggestion, get the ones that you can use in both places so you have more control over where you want to play.
Size:
The next thing to consider is how much space you have. Especially if you get the one for indoor use, you have to be sure that the net you get can fit into your space and you have enough area that you can practice freely. Don't get a really big one if you don't have space inside or even outside. But if you have a yard you can use or even a garage, then you can get a bigger one.
FAQs:
Which is the best golf training net UK?
Well, we have compiled a list of the perfect choices that we found based on our research so it is now on you and your preference to decide which one works well for you.
Each net has its own properties that are unique to itself and has its own pros and cons. So all you have to do is weigh your options and get the one that is perfect for your needs.
Are golf practice nets any good?
We definitely think so. Nobody has the time or even opportunity to go to a country club or a golf course daily but the practice is something that you have to do on a daily basis to lower your score. So it makes sense to get the next preferred thing which is these golf nets. They are available from different brands, at different prices and with different qualities, just figure out your needs and you're just a click away from your winning dreams.
What is the best indoor golf practice net in UK?
We understand that problem and that need which is why we have listed some of the top options of indoor practice nets. You have to pick the right one depending on the space available and then dedicate an area that you are going to use it in (you have to be mindful of your surroundings when you're going to golf inside). While outdoor nets are a good option as well, it will be a better choice to pick the dual ones, especially if you have space indoors.
So what are you waiting for? Check out these golf practice nets reviews in UK both for indoor or outdoor use!
Reference:

Latest posts by Nick Lomas
(see all)