The National Golf Foundation reported that 37.5 million people played a game of golf – both on-course and off-course – in 2021. 
The popularity of the sport was not only seen on the golf course – 12.4 million people participated in off-course golf-related activities, like practicing at the driving range or playing indoor golf simulators. 
In the past few years, we have seen a significant rise in the golf industry. This makes us wonder why is golf so popular? Let's explore this in detail below.
Why is Golf so Popular? 
One of the biggest reasons golf is a popular sport is that it can be played by people of different age groups, at any time of the year, by players of any skill level.
The world of golf has plenty of categories ranging from a Junior Amateur to a Senior Professional golfer. The variation is adjusted according to their skill levels, gender and age bracket.
The categories and skill sets are measured through a scoring handicap. The basic idea of handicaps is that the lower the number the better the player is.
Handicaps allow players of all skill levels to play against each other, providing a fair, competitive match.  
Golf as an Exercise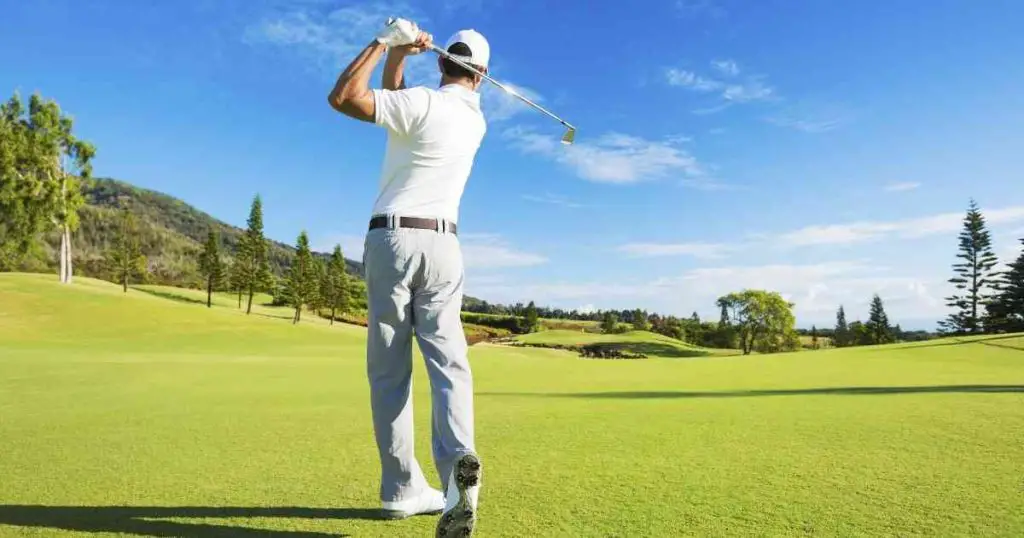 Golf is a peaceful and relaxing sport but it also contributes to burning some calories. By the time you have reached the 18th hole you will feel in need of some snacks. 
A round of golf is equivalent to walking at least five miles. If one does not want to exert much energy, they can ride a cart or play some off-course activities like the driving range or indoor golf simulators.
Once you get comfortable with golf, you might want to improve your performance further. So increasing your strength may come in handy.
Some golfers like Bryson DeChambeau have achieved a great physique by putting in some work. His strength and conditioning greatly helps him perform well on the course.
One of the greatest golfers, Tiger Woods was involved in a scary car crash, which nearly lost him his leg. Before the accident, he was mostly seen as one of the Tour's best players. 
In his first tournament after the accident, The Masters – one of golf's four major tournaments – Woods finished 47th Place with a score of +13. This makes it clear that your physical conditioning plays a vital role in golf.
If you are a seasoned golfer who tends to play for relaxation, you don't necessarily need great physical strength. You may still be able to achieve a few pars and birdies at the course. 
Golf for Everyone
Some golfers might find it difficult to keep up with the 18 holes. Golf allows tools like golf carts and different aids to make it easier for certain people. 
Popular golf equipment industries have developed high-end golf carts, ranging from two to six-seaters. Some companies like E-Z-GO also provide the flexibility of customized golf carts according to the golfer's choice.
People of all walks of life can enjoy this beautiful game of golf. There are modified sets of rules and golf products developed to make golf accessible for all individuals. 
Different tees on every hole ensure that the game can be played by people of all skill levels. This allows them to shorten the course length for short hitters and make the game more enjoyable.
Single-seat mobility carts are a great tool for people with amputated legs. Allowing them to operate even on greens with proper instructions.
The strongest answer to support the question – why is golf so popular? – is that it is a sport that is made accessible to everyone.
Beginners can also participate in the game with a variety of golf aids such as rangefinders or advanced golf GPS watches. 
A rangefinder can give you the exact distance to the hole, which will help you decide the type of club you are going to use. There are plenty of good rangefinders out there, including this list of the best 7 rangefinders.
Business Development Through Golf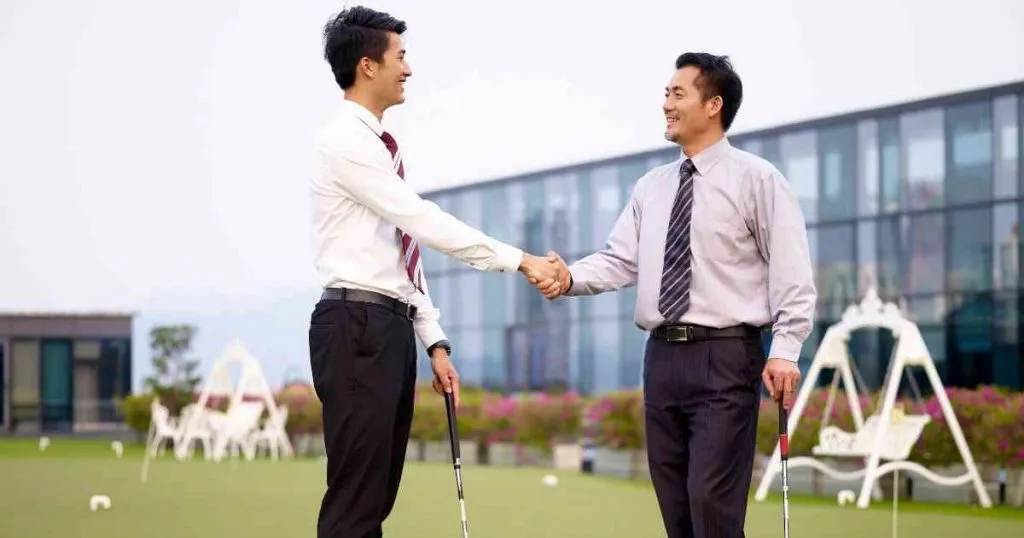 According to the Forbes Article "Golfers Make Better Business Executives," 90% of Fortune 500 CEOs are active golfers, out of which 80% of executives have claimed that golf supports them to develop new business relationships.
Golf allows room for peaceful and detailed discussions throughout the course. A round of golf averages around four and a half hours.
Playing with someone for more than 4-hours can help develop a bond between players.
Some of the greatest deals are made on the golf course. Business is deeply ingrained in this game, which is another strong reason for the popularity of golf.
Golf gives you the opportunity to judge the manners and ethics of a player at a course, and it can be paralleled with their work life. Some may cheat for a slightly better score, and some will be honest about their performance.
A round of golf can reflect a lot about a person. Some golfers may play the game as a leisure activity and play in a calm, friendly manner. Some short-tempered golfers can also take it as a challenge and get competitive, which can be frustrating in the case of a bad round.
If a golfer makes a bad score on a few holes, they will either work hard on the next one to improve their score, or may be frustrated and ready to give up. This can give away the mental toughness of a person.
These factors can prove to be very useful in creating an understanding between two individuals. Business executives can understand and visualize their relationships with their potential business partners.
Golf as a Leisure Activity
People tend to participate in different types of leisure activities to help them relax. Golf is a great leisure activity in which one can play a round with a peaceful mind.
If you play on a beautiful course, full of greenery, surrounded by trees, it can be very visually appealing and will help lift your mood. 
Playing golf regularly can boost self-esteem, improve confidence, and if played well, can also reduce anxiety. All of these factors can contribute to an improved mental wellbeing.
A 12-person study concluded that golf acts as therapy for people with mental health or substance abuse disorders. The studies reported that golfing can improve focus and concentration, reduce mental symptom burden and improve physical fitness in these individuals.
During the global pandemic COVID-19 outbreak, strict rules were imposed by the government –  like social distancing and isolation. This was mentally frustrating for some people. 
Golf was a great escape as it does not require any physical touch between players. One can play at a safe distance easily. Some golf resorts opened their courses for people with safety rules imposed. 
Golf as a Vacation
Playing at the same golf course over and over again can make the game boring at times. Golfers tend to explore different golf courses with different difficulty levels.
Almost every country around the world has a golf course, which can be a good excuse for you to travel and have a different golf experience.
A golf GPS may come in handy for you if you wish to experience different golf courses around the world. It can help navigate your way through the golf course. The detailed explanation of the 10 best golf GPS can help you find the best one to suit your needs.
Different tournaments are organized around the world, all year round. The categories of the tournaments may differ, and most of the tournaments are professional ones. Amateurs are not completely left out, there are tournaments for them too.
Amongst these tournaments, there are sub-categories like Senior Professionals, Senior Amateurs, Junior Professionals, Junior Amateurs and a separate pool for female golfers. 
Along with that, there are some inter-collegiate competitions in golf, in which students from different colleges participate and compete against one another.
All these tournaments can be attractive for people to visit different places and participate in competitions at various golf courses.
If you are a die-hard fan of golf, you can also get a ticket to visit some of the greatest golf championships and watch legends play.
The PGA Tour provides a yearly calendar where you can check out the various tournaments happening around the year, along with their details and ticketing information.
With the evolution of golf equipment, traveling is much easier with your golf bags. A detailed comparison of the top ten golf travel bags can help you decide the best one for your travel needs. 
The Takeaway
There are plenty of reasons to answer the question – why is golf so popular? Ranging from accessibility-for-all, to golf trips, and a leisurely day on the course. 
You can use golf as an excuse to escape from your daily routine and travel the world. Or maybe lock that massive business deal you've been working on.
A well-planned tour of different courses around the country can help you relax and indulge in a well-deserved break.