The key to giving your hundred percent when playing any sports is comfort. It is essential for a player to be dressed comfortably to give their maximum performance. In sports like golf, you need to be highly focused and precise. One needs to think sharply and make smart decisions.
  And to aid you with all of this, we've got you the best golf rain gear!  
These outwear aren't just designed to keep you dry but to also allow you to swing without any hindrance. Unlike in the olden days, these golf wet weather gear is breathable and would keep you feeling light and fresh. Moreover, these power-packed suits will have you looking top-notch on the fairways!
  For more information, make sure to check out buying guide below!  
Waterproof or Rainproof?
As golf is an outside sport, it's important to invest in waterproof golf gear. Waterproof gear will ensure that you're completely dry underneath your jacket/trousers. Although waterproof clothing is expensive, these are a must-have for any golfer. So it's time to reach deep into the wallet and invest in one if you haven't already.
Rainproof is often confused with waterproof so it's important to differentiate between the two features. Rainproof outerwear will protect you against showers for a short period but if continues for longer, the moisture may seep inside. This is because rainproof materials allow for air to flow inside, hence, having tiny pores. Over longer periods, water also gets in through these pores.
Best Golf Rain Gear 2022:
So here is a list of the top rain gear products you can buy right now
1. FROGG TOGGS Classic Rain Suit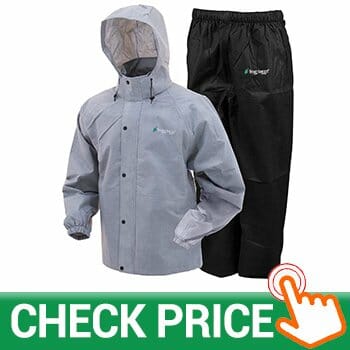 What we love:
Lightweight
Incredible water and dust resistance
100% Polypropylene
Comfortable and breathable fit
| PROS | CONS |
| --- | --- |
| Variety of colors | Price varies depending on the color |
| Two-piece suit | baggy fit |
| weather sealed | |
| | |
2. Columbia Men's Watertight II Jacket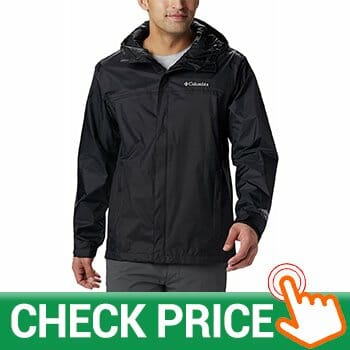 What we love:
A snug fit
Industry-leading water resistance
Lightweight and portable
3. Marmot Men's Precip Lightweight Waterproof Rain Jacket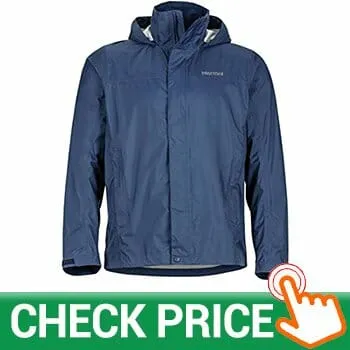 What we love:
Minimal design aesthetic
Multiple colors to choose from
Superb rain resistance
| PROS | CONS |
| --- | --- |
| Easy to carry | Pricey |
| NanoPro technology | |
| Breathability | |
| | |
4. FROGG TOGGS Pro Lite Waterproof Rain Suit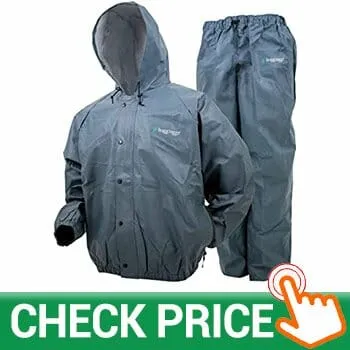 What we love:
Heavy-duty materials
comfortable
can fit a variety of body types
highly affordable
| PROS | CONS |
| --- | --- |
| Unisex | Limited colors |
| Reasonable price | |
| weather sealed | |
| | |
5. Liuhong Rain Gear Lightweight Waterproof Rain Coat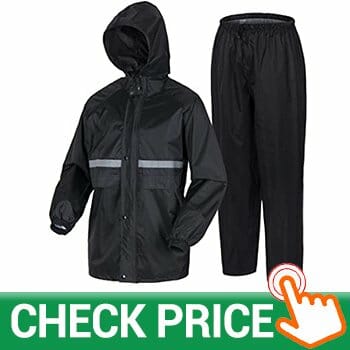 What we love:
Aesthetically pleasing
Jacket with a textured hood
Lightweight and comfortable
| PROS | CONS |
| --- | --- |
| Variety of colors | none |
| Affordable price | |
| Lightweight | |
| | |
6. Ourcan Rain Gear (Jacket and Pants)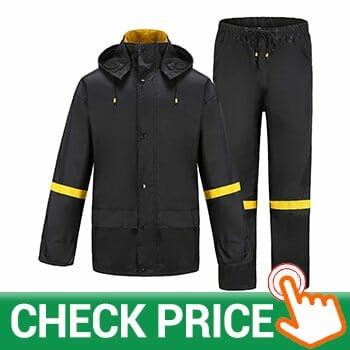 What we love:
Reflectors to better security in the dark
Impressive weather performance
Decent padding for warmth
| PROS | CONS |
| --- | --- |
| Multiple pockets | Not the best water resistance against the heavy downpours. |
| Stylish | |
| Lightweight | |
| | |
7. FIT SPACE Waterproof Golf Rain Suits for Men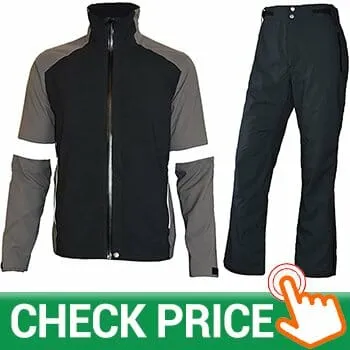 What we love:
Comfortable and breathable
Relaxed fit to suit most body types
Amazing water resistance
| PROS | CONS |
| --- | --- |
| Detachable sleeves | none |
| Seam Sealed | |
| Lightweight | |
| | |
8. PRO Golf Rain Jacket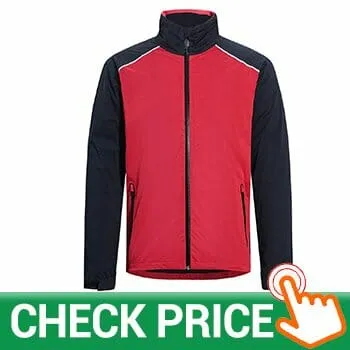 What we love:
alluring colorway
high-quality zippers
warm insulated fabric
| PROS | CONS |
| --- | --- |
| Zipper pockets for storage | none |
| Water repellant | |
| Lightweight | |
| | |
9. Callaway Men's Golf Fleece Jacket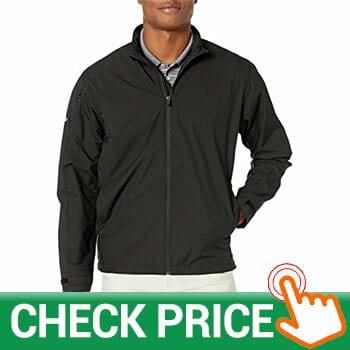 What we love:
a classic long zipper style
very lightweight
incredible water protection
| PROS | CONS |
| --- | --- |
| Opti-shield and opti-repel | a little expensive |
| Comfortable | |
| Lightweight | |
| | |
Conclusion:
We hope these golf rain gear reviews have been helpful for you and will allow you to choose the rain gear for yourself! For more compelling reviews on all things golf, check out our other content in the blog post!
Buying Guide for Best Golf Rain Gear 2022
Buying the right gear requires one to put in some time and effort. With the huge variety of golf rain gear available in the market, it can be hard to decide which one is the perfect fit for you. As golf outerwear can be expensive, it's important to make a one-time investment that's going to be worth the money! To make it easier, we've compiled a short guide to aid you in selecting your rain gear.
Jacket:
Jackets are the most common outerwear for golfers as they can layer these on top of their polos. When buying a jacket you should make sure it's comfortable, allows you to move your arms freely, and features pockets, hoods, elastic cuffs, lining, etc.
The jacket comes in various styles from vests, half sleeves, and full sleeves. You need to make a choice based on the weather in your area.
Trousers:
Trousers are often not given as much attention as jackets. But in reality, they are just as significant as jackets. Even when the sky is clear, your bottom half can easily get wet when walking through tall rough grass or through water standing in the fairway. Hence, it's very important that you get the right kind of waterproof trousers to be comfortable during the game.
FAQs:
Q1. What are the best golf rain suits?
In our opinion, the Ourcan golf gear company makes promising rain suits you can buy right now. Comfort and functionality, the Ourcan can have you covered in every aspect.
Q2 What are golf rain pants?
These are the pants that keep you dry in the rainy weather. Since the golf courses can get pools pretty easily, having a pant that can repel water is highly effective.
Q3 What to wear when golfing in the summers?
During the summer weather, you can wear a short-sleeved polo shirt. The fabric of the shirt should be breathable such as cotton. Also, you must ensure your polo has a collar!
For the bottoms, you can choose between shorts or slacks, whatever you're comfortable with. Again, make sure that they have belt loops. Do not wear soccer shorts or slacks with drawstrings! Always follow the golfing dress code to remain professional.
Q4 What kind of golf shoes should I get?
Golf shoes come in three forms; steel spikes, soft spikes, and spikeless. The steel spikes are only used by pros. They are mostly banned on most golf courses as they cause damage to the green. The soft spike is a good replacement and is acceptable for everything. It has plastic or rubber spikes instead of steel ones.
Spikeless ones are good for those who feel pressure on their sole due to the spikes.
So try on both kinds and see what suits you!
Reference:
Performance of breathable rainwear materials with respect to protection, physiology, durability, and ecology

Latest posts by Nick Lomas
(see all)